Why is it that people are so keen to visit museums when on vacation, but seldom visit museums in the city where they live? I've been guilty of this in Rome, always thinking that "I'll get around to it someday."
My friend and podcast guest Elizabeth Joss did not make this common mistake when she lived in Rome for three months a few years ago. Rather, she made a point to see as many museums as possible, and above all some of the offbeat museums of Rome.
This isn't by accident. She's the creator of a great website called "The Museum Times," which focuses on just such experiences. The stated mission of her site is to "showcase lesser-known museums that are hidden gems in their own right." And she certainly does visit some offbeat spots, such as the Criminology Museum and Centrale Montemartini, which presents an unusual juxtaposition of ancient Roman sculptures in an industrial factory setting. We talk about both of these during the podcast.
Offbeat Museums of Rome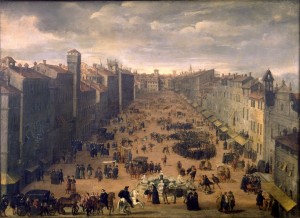 Besides these oddities, we also discuss some of the more "mainstream" museums that don't get enough attention. That's easy to understand in a city like Rome, where even the churches are museums in their own rights. But how many people, even those living in Rome, have ever been to the city's namesake, "Il Museo di Roma?" This incredible museum, located just off Piazza Navona in the very heart of tourist central, contains many important works created in Rome, of Rome, by Romans. And yet…
I was living in Rome for two years before I made it there myself, and even then I had been lured by an exhibit featuring the restoration of Caravaggio's "Resurrection of Lazarus." This was a fantastic mostra back in 2012, which highlighted both the history of the painting, and the "art" of restoration. The curators pulled out all of the stops, taking over about 3,000 square feet of museum space that chronicled the life of this one particular work.
Then two years later I saw the same Caravaggio painting at its permanent home at the Museo Regionale di Messina, where it just hanging on a plain black wall in a nondescript room. No interactive displays, no elaborate historical background…and no security! Just a tiny placard with the most basic information. I put my nose about two centimeters from "the hand" of the Baroque master himself. I could have touched it, and I'm sure nobody would have known. (I didn't, although it was tempting.)
This is another topic we cover in the podcast: the lack of care for Italy's historic treasures. Of course, this conversation can include many arguments, including the fact that Italy just has way too many artistic masterpieces to properly curate them all. Bottom line, if you love museums but don't care about fancy presentations, Italy—and specifically Rome—is your Nirvana.
Elizabeth Joss
One of the other things that you might enjoy about today's episode is listening to Elizabeth's accent. Those of us from the U.S. are crazy about accents of English-speaking people from other countries, and Elizabeth is from South Africa.
Elizabeth Joss is the founder and main writer at The Museum Times. She is a Communications Manager by day and an avid travel blogger and arts and culture enthusiast by night. Elizabeth started The Museum Times out of the need to give smaller, lesser-known museums more exposure. She currently lives in The Hague, where she teaches, writes, travels, and of course, visits museums.
As a writer, Elizabeth specializes in arts, culture, lifestyle and travel pieces focused on The Netherlands. Her work has been featured in lifestyle, travel and expat magazines both online and in print. She is interested in new and inspiring assignments in The Netherlands and beyond, and is always willing to travel.
Visit her website at: The Museum Times
Click the link to check out other episodes and see my list of the best podcasts about Italy.
Podcast: Play in new window | Download (Duration: 25:28 — 23.3MB) | Embed
Subscribe: Apple Podcasts | Google Podcasts | Email | RSS | More