According to The Miriam-Webster Dictionary, an Odyssey is defined as, "A long voyage marked by many changes of fortune."
The word originates from the epic poem of Greek tradition where the hero Odysseus (known as Ulysses in Roman myths) must overcome countless obstacles on his ten-year journey back to Ithaca after the Trojan War.
Most of the story takes place in and around Sicily. Along the way, he encountered witches that seduced him, sea monsters that devoured six of his crew, a whirlpool that scuttled his ship, and the wrath of The Gods themselves.
But he gets no sympathy from me. He had it easy compared to what our group of bloggers endured last month. The Voyage of Ulysses was a pleasure cruise compared to our ill-fated Odyssey to the Aeolian Islands.
For those who aren't familiar with this destination—a little archipelago of volcanic gems tossed into the Tyrrhenian Sea just north of Sicily's main island—let me just say straight away that they are well worth whatever pain you must endure to arrive. Perhaps the difficulty in getting there actually adds to their appeal, in a perverse way.
Some ambitious travel agent (who probably hasn't traveled much) haphazardly plotted our doomed course from Rimini to Lipari, which included a bus ride, a low-cost flight, another bus ride, a sea-crossing in a bouncy hydrofoil, and finally a taxi to the hotel. Obviously this plan imploded at several points along the route, turning a scheduled seven-hour trip into a two and a half day…what's the word, again? Oh, yes—Odyssey. "A long voyage marked by many changes of fortune…"
Occasionally fortune changes to your favor. As a result of the epic fail in transportation planning, we were "stuck" for one night in Taormina. This steep little village of brown rock and pink bougainvillea has been a favorite destination of writers and poets since The Grand Tour. It is precisely here that I enjoyed one of the best seafood meals of my entire life with Saskia Balmaekers from the Dutch language blog, Ciao Tutti.
By the way, she has the best Italy website out there. The Best. Period. In any language. Use Google Translate to check it out, because her blog has more useful information than any other 10 blogs combined. You can see the photos from our lunch here on her site: Rosso di Vino in Taormina.
Finally Arriving on Lipari
"They then passed between the six-headed monster Scylla and the whirlpool Charybdis, Odysseus losing six men to Scylla, and landed on the island of Trinacria. Zeus caused a storm which prevented them from leaving."
Well, we didn't actually "lose" anybody to the sea monsters, however three people did throw up during the boat crossing. But I won't bore you further with our misadventures. Instead, I'll tell you how thrilled (and relieved) I was to arrive at last at my hotel in Lipari. I plopped down my suitcase, and open the balcony door to this: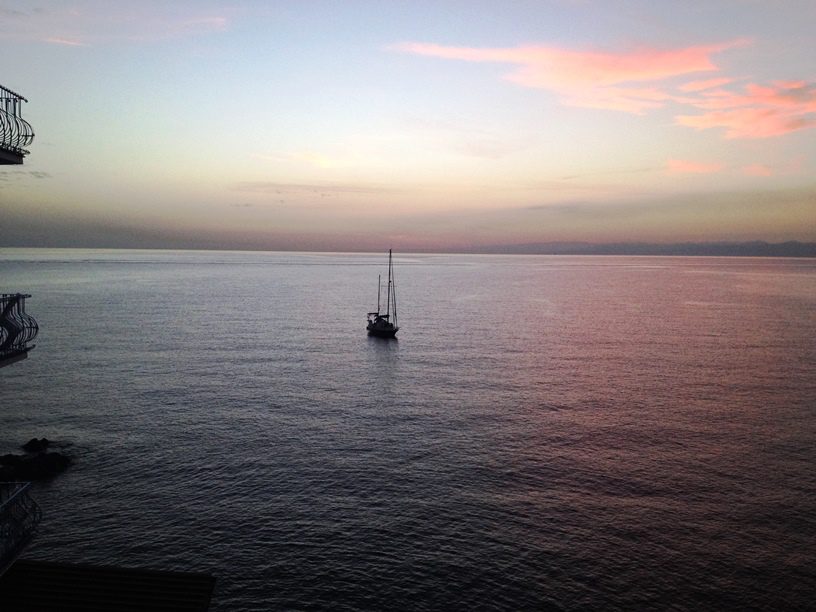 Needless to say, all of my pains were soon forgotten. Hotel Rocce Azzure is practically IN the sea, its layers of terraces cantilevered over the rocks and waves, the only sounds are seagulls and the surging tide. You can smell the salty mist from any open window. Honestly, I might have been happy to spend my entire four days sitting there on a lounge chair and staring out at the sailboats with a glass of Malvasia in my hand.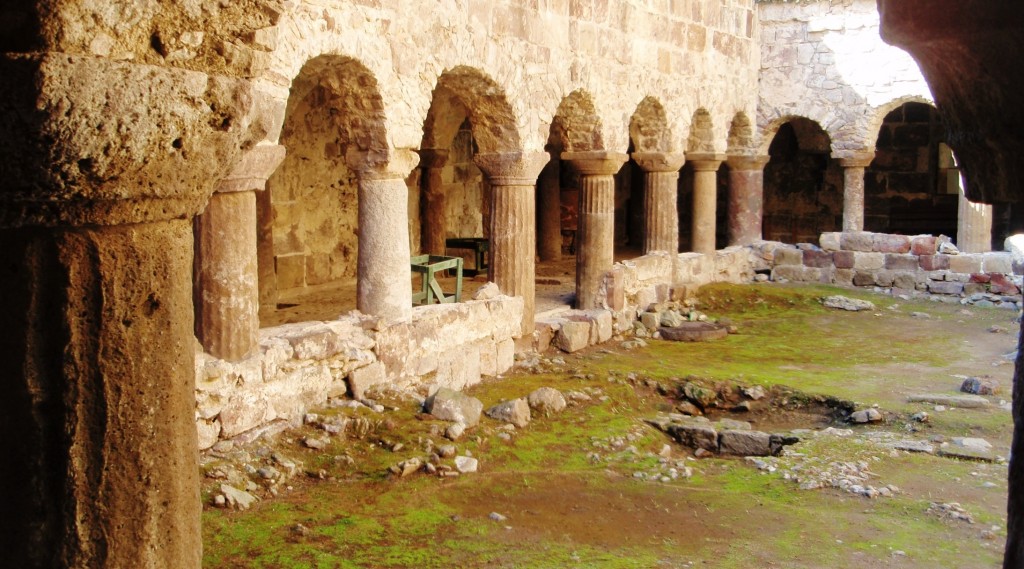 But alas, we were on a blog tour, so there were sites to see. It's a good thing, too, because my own inertia would have caused me to miss the unique splendor of this rough but welcoming sanctuary, so isolated from the rest of Italy.
No, you don't come here for exciting nightlife—we could have stayed in Rimini for that. Nor do you come to behold masterpieces of the Renaissance—although we were pleasantly surprised by the rich exhibits at the Archeological Museum. (There were even several statues that venerated the Greek/Sicilian goddess Demetra, the namesake of my daughter.)
No, you come here to Lipari for two reasons: natural beauty and fresh seafood. (Oh, and Malvasia…OK, three reasons.)
Eat, drink and be merry, for tomorrow we hike the Volcano!
After our treacherous voyage across air, land, and sea, the lunch at Ristorante da Filippino on our first day in Lipari had all the self-congratulatory revelry of a conquering army returning from battle.
There were dozens of tables spread out in a glorious outdoor setting, as Filippino himself welcomed us to his famous establishment. Antipasti, pasta, and fresh whole fish appeared at our tables, sampling the diverse bounty of the Mediterranean. The wine flowed like, well, like wine—bottle after bottle of a crisp white Inzolia that complemented the salty seafood flavors. Then the Malvasia arrived, that golden nectar of local production that finishes the meal with a sweet kiss. Raisins transformed into liquid ambrosia by the alchemy of sun, sea breezes, and volcanic soil.
Speaking of volcanos, the next day we took a short boat ride to the nearby island of Vulcano. I must say, none of us were too thrilled to get on another boat that transported us to yet another bus. But it turned out to be worth the effort. We started with a stop at the sulfur mud baths, then drove to the top peak of the island for 360-degree panoramic views on a clear, sunny day. It felt like standing on the very edge of the Earth, gazing back at civilization, too far in the distance to feel connected.
After sufficiently awed by the natural wonders of our surroundings, you guessed it, time for another two-hour Sicilian lunch. This time, the chefs put a modern spin on some classic dishes. I'm usually suspicious of innovation as it pertains to Italian cuisine, but our meal was quite good, enhanced by a relaxing view of the luxurious pool area.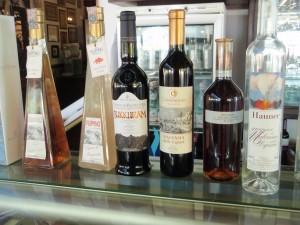 Indeed, when the moment arrived to get back on the bus for another hike which promised more stunning views, a few of us elected to stay behind at the pool, where we proceeded to exhaust the wine cellar of our host, the splendid Orsa Maggiore Hotel. Yes, that's right—after about three hours of poolside vino, the waiter finally said, "Mi dispiace, ma non c'è più!" I'm sorry, but there's no more!
I took advantage of this tranquil setting to coax a couple of my wine-addled travel mates into audio interviews for upcoming episodes of my podcast. Look for these in January, when memories of a warm Sicilian afternoon might inspire your own fantasies of this remote little corner of Italy, so rarely visited by foreign tourists.
In the end, it occurred to me that perhaps Odysseus never really wanted to leave this place.  I know I didn't.
Epilogue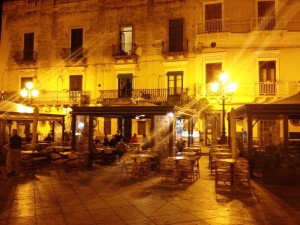 "They stayed with the god Aeolus for a month, and his parting gift to Odysseus was a sack which contained the winds that would carry him home."
Fortunately, our crew narrowly eluded all of the perils and survived our Odyssey to the Aeolian Islands, no worse off for the wear. I raise a glass to our band of merry adventurers; may our paths cross again soon:
Lorenzo Bonoldi from Visit Mantova
Gillian McGuire from Gillian's Lists
Saskia Balmaekers from Ciao Tutti
Andy Best from I Am Torch Studios
Ricky Crawford from Richard Crawford Luxury
Mike Hinshaw from The Nomadic Texan
Raymond Walsh from Man on the Lam
Samantha Dunham from MidLife Mum
Emilia Antonia de Vivo from Mirtilli di Londra
UPDATE! I was honored to share this experience in an audio format with Chris Christensen from the Amateur Travel Podcast…check it out!!
Amateur Traveler Episode 493 – Travel to the Aeolian Islands