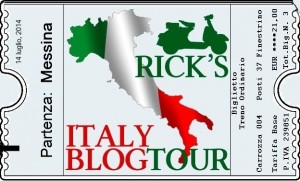 An Englishman arrives on the shores of The Continent—presumably somewhere in Northwestern France—eager to fight in The Crusades.  He asks a fellow soldier at the basecamp, "Where do I find a boat to take me to The Holy Land?"
The reply is at once vague and yet very accurate.  "Go east until you hear Italian being spoken, and then go south until you don't."
In this movie reenactment ("The Kingdom of Heaven"), part history and part fiction, the place where you "don't" is Messina.  This was/is the proverbial crossroads of the Mediterranean where Europe, Africa, and the Middle East all collide.
This also happens to be my wife's hometown, and we've been staying here for over a month now while our little bambina gets to know the Sicilian side of her family.  I've really been enjoying my explorations of this often overlooked destination.  We've been lucky, because we're staying at my brother-in-law's apartment right in the very center of town, and everything is just a 5-10 minute walk away.
For me, this spot in this city represents everything that I find appealing about life in Italy—and the things that I miss when I'm in the U.S.  The grocery store, coffee bar, pizza place, newsstand, post office, wine shop, fish market, piazza, bookstore, shoe store, the port, the train station etc, etc, are all at our doorstep.  To visit all these places in the US would take a full day and two tanks of gas.  Instead here, I pop into the bar for a coffee and the owner gives my daughter a cookie while we chat.  The focacceria always adds a little "bonus" slice to my order.  People talk, bump into each other (often literally), and exchange pleasantries.  History all around you.  Did I mention perfect weather and the best food anywhere on the planet?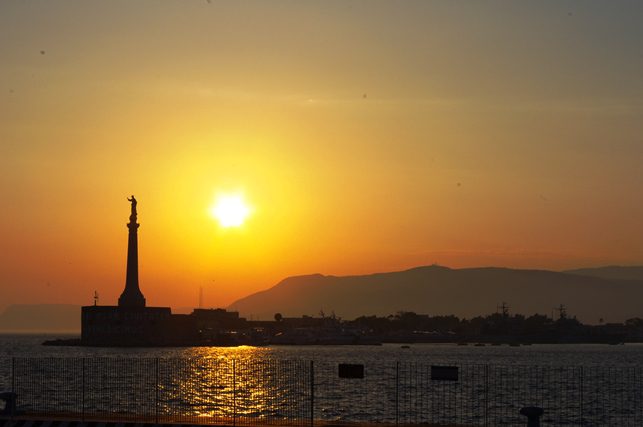 That's the good side.  There are frustrating aspects, too, which I'll mention in an upcoming post.  But for the most part, the city is full of the type of human interaction that is so lacking in American society.  I guess that could be said for Italy in general, but it's even more intense in Sicily.
I'm writing this introduction to Messina because I want to share this city through my eyes before I hand over my blog to my wife tomorrow who will give a much more accurate description of her birthplace. But that's the nature of travel, I suppose: what we see largely depends on the lens that we look through. No doubt, I often use the rose-colored lens of a lovesick expat, or even the typical American tourist. Like the camera that hangs around my neck, I see most everything in Italy two-dimensionally (not to mention selectively).  Tomorrow Jessica's story has a deeper, personal perspective, as she recounts the most infamous day in her town's history. Get your handkerchiefs ready.
So before we hear about that, let's do a bit of sight-seeing.  Jessica will mention a few of these places in her post, too, but first I want to dispense with a brief introduction to Messina to give you the lay of the land.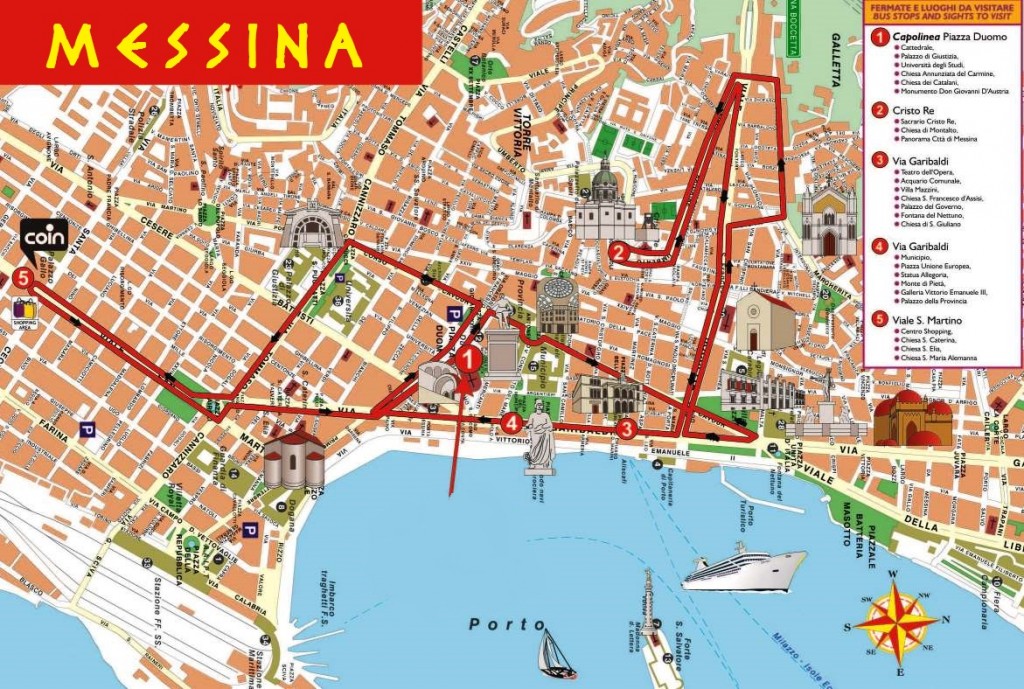 Playing the tourist in Messina
The Duomo, Clock Tower, Fontana di Orione.  These are all found in the main piazza, Piazza del Duomo, in the center of town.  The original church is from the Byzantine era, but the first cathedral was built during the Norman domination.  Destroyed several times, by a fire in 1254, an earthquake in 1783, another quake in 1908, and finally allied bombs during the Second World War.  And still it stands.  Reconstructed, but still there.
Chiesa dei Catalani.  Dating from the late 12th-13th century, this is a beautifully preserved church just a block or two from the Duomo.  When the quake of 1908 hit, the church trembled, but didn't break.  It did, however, sink three meters into the earth, so that's why it's no longer at street level.
Museo Regionale.  This museum is not very inviting from the outside, as the grounds have been mostly left to the weeds.  Indeed, there's nothing much on the inside, either.  Well, that's if you consider Caravaggio "nothing much."  Two of his works are here, beautifully restored and displayed.  You'll likely have the whole place to yourself and you can put your nose about 2 centimeters away from "The Resurrection of Lazarus," if you like.  I did.
Piazza Cairoli and Viale San Martino, Via Dei Mille. This is the shopping/passeggiata area of town where you can go in the evening to cool off in the shady square with a Birra Messina. Yep, they've got their own beer! Try it with an arancino at Irrera in Piazza Cairoli.
Basilica Santuario Sant'Antonio.  We were lucky to be in town for the Feast Day of Saint Anthony, the town's patron saint.  There was a big parade down the main street, and we took our little daughter to see it. When the statue passed by us, everyone started clapping and cheering.  My 10 month-old daughter was so happy; she thought they were all clapping for her.  (Viva Santa Demetra!)
The Basilica is worth a visit, but more so the little museum beneath the church dedicated to Saint Annibale, who lived in the same neighborhood and did a lot of great work for the poor folks of Messina.
Day Trips
Sadly, 800+ years after The Crusades, Messina is still mostly famous for being a jumping off point to more appealing destinations.  From our basecamp, we travelled to Taormina, Reggio Calabria, Tindari, and "The Godfather's hometown" of Savoca. We did not, however, make it to The Holy Land.
I will probably devote full posts to each of these spots in the future, but the point I want to make here is that Messina is often seen as merely the front door to Sicily, where you wipe your feet and move on.  Heck, even the many cruise ships that stop here list "Taormina," and not Messina on their ship's itinerary, opting for the more sparkling appeal of that steep little town on the rocky hill, famous since the Grand Tour for attracting writers and artist.  Alas.
Grazie a mia moglie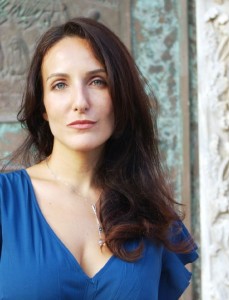 It should be noted that my blog is only about 70-80% "me," and the rest is Jessica behind the scenes.  On the rare occasion when I write an acute insight about the peculiarities of Italian culture, it's usually me making an offhand observation, and then Jessica taking the time to dissect it and explain it to me.  From there, the posts practically write themselves.  (And if you read Italian, check out her hilarious blog about life in Florida!)
Tomorrow you will get to read my wife's take on her hometown on the same day that we are leaving to head back up north.  For me, it's been a wonderful experience to discover this little hidden gem and see all the places where my wife grew up.  I'll miss it a bit, for sure.  As for Jessica, as you'll read, the emotions are very much mixed and bittersweet.  Like the history of the city itself.