Strangely enough, I get a fair number of emails asking me "How can I be a travel blogger, too?"  Or more commonly, "I've already started a blog.  But how do make it NOT suck?"  Why someone would approach ME with these questions is a mystery, but they do, so let's see if I can offer some beginner-level advice for anyone who wants to be a travel blogger.  Starting today, I'm going to be posting a three, four, five part series—who knows?  I'll keep it going for as long as it holds my attention.
Also, I'll be making a couple of really cool announcements this week related to the topics of blogging, the travel industry, and how the two interact.  I have been invited to two very prestigious events next month concerning tourism in Italy, and I'm really excited to share this news with everybody.
But for now, let's get back to the nuts and bolts of travel blogging.
So you want to be a travel blogger?
Who wouldn't want to be a travel blogger, right?  You get paid to write about exotic locations, stay in luxurious hotels, and eat at Michelin-starred restaurants.  You wake up late and take your laptop and Campari cocktail to the pool to quickly dash off an article or two for the editors at Conde Nast, who are eagerly awaiting your next paragraph.  Sounds about right?
Uhh…no.  Not even close.  If you want to know the truth, it's a lot of hard work with very little promise of reward.  Furthermore, there's a lot that goes into writing a travel blog, much of which has surprisingly little to do with writing.   To break it down for the sake of discussion, we could separate the overall activity (blogging) into three general parts.
In my mind, you need to know something about: 1) writing, of course; 2) technical/computer skills; 3) marketing/social media.  Good travel bloggers possess all of these abilities, but usually they arrived at blogging from one of the three (and if you look closely at their blogs, you can usually tell which one).  But of these three overlapping components, which one is the most crucial in terms of attracting readers to your website?  Tough to say, because they are all important.  Maybe the technical skills are less advantageous today than they were four or five years ago.  Google has really tightened up their algorithm to weed out spammy sites.  Still, if your site isn't coded well and optimized for search engines, you're going to have a tougher, slower road ahead of you.
I'll try to touch on some of the technical stuff in the next post, but today let's talk about the writing part.
Find your voice
The first thing you need to decide upon is your general theme—and then you should probably try to narrow it down as much as practically possible. Not too much, because you don't want to run out of things to write about.  But don't be another generic "travel" blog, or even "Italy" blog, at least not in the beginning.  There's just too many out there and you'll never gain any attention.
Instead, be the "Single mom travelling Italy with three kids" blog.  Or focus on a specific area, and be the "Baroque Sicily" blog.  Mine started as the "American teaching English in Rome" blog, but honestly that was WAY too niched down.  So I gradually "niched out" to be the "snarky malcontent ruminating over culture idiosyncrasies" blog.  But even this has been done, and done much better by the likes of my COSI friend, Elizabeth Evans of Surviving in Italy, for example.
A college kid backpacking across Thailand?  Not so special, there are literally hundreds of those blogs.  But how about a transgender couple living in an igloo above the Arctic Circle with their pet walrus?  Now THAT'S a blog that I would follow.  OK, you don't have to be that unique, but you see what I mean.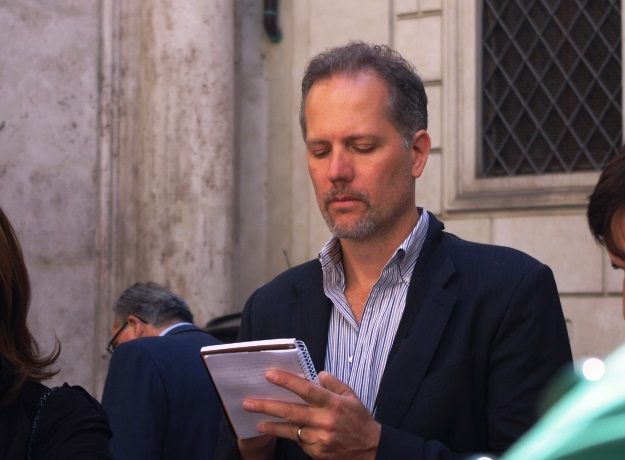 This brings me to the most important element, at least from the writing side: finding a distinctive voice.  Even if you're talking about the same things as the 900 other Italy bloggers (like me), you must at least "sound" like you're saying something different.  And the only way to do that is to cultivate the written version of a consistent and identifiable personality.  You don't need to have a "big" personality, just a unique one. 
If that's the "who," then let's talk about the "what."  Of course, your topics will be dictated to a large degree by the theme of your blog, and you should try to stick to that as much as possible.  You want to become an "authority" on something, whether it's Umbrian hill towns, Sicilian cuisine, or the best camping sites in Northern Italy.  That doesn't mean that you can't wander off topic occasionally, but try your best to find a tie-in to the overall theme of your blog.
Once you've become an authority, and you start getting a fair amount of traffic to your site, only then can you consider gradually zooming out.  Again, using my blog as an example, it was originally a resource for folks wanting to teach English in Rome, and for expats who needed some advice on fighting their way through the dense jungle of Italian bureaucracy.  "Permesso di Soggiorno" is still one my biggest Google search terms, even though I haven't written anything about that subject in over a year and a half.
As I expanded my writing topics, people started finding my site by searching for the cultural idiosyncrasies like Italian superstitions, dating Italian women, and dressing like an Italian.  Lately, in the last six months or so, my site is being noticed as a resource for travelers looking for vacations spots in Italy that are not part of the Rome-Florence-Venice itinerary.
But even from there I wander off topic occasionally. This past summer my family and I traveled outside of Italy, so I had to find a way to connect these trips back to my blog.  It was easy in Switzerland, since we were in the Italian-speaking zone.  I wrote a post comparing the lifestyle in Ticino, Switzerland to Sicily—two places that speak (sort of) the same language but with completely different social structures and cultural norms.  Then we went to New York City, and I wrote about our day in "Little" Italy.  Again, a very loose connection, but still it fits the current theme of my blog.
Tell your story
OK, we've got our "who" and "what," so it's time to figure out "how."  How do we relate our experiences to our audience in a way that feels personal to them?  I have really come to dislike all the "lists" out there—"Top Ten Gelato Flavors," or "Twelve Reasons to Visit Puglia." This trend has created a cacophony of information on The Web, and practically removed the personality of the writer from the writing, making him/her an anonymous entity, not unlike an encyclopedia.
My first choice is always to tell a story.
But NOT the kind of story that reads like a twelve year-old's diary: "I had pasta for lunch…it was SOOOO delicious!!!  Then we saw Saint Peter's…it was SOOOO incredibly beautiful!!!!"
It doesn't matter how many exclamation points you use, punctuation can never replace genuine emotion.  Sadly, we all use them too much, including me, especially in our social media updates.  Just before you publish a blog post, go back through it and delete 90% of your exclamation points.  A good rule: allow yourself ONE per 1,000 words.  (I just made this rule up, but it sounds about right to me.)  They're OK in Twitter, I guess, but leave them out of your blog….for the love!!!!
Try to "zoom in" and focus on details.  If you want to transport your readers to the place, you must activate their senses. However, avoid the trap of breaking out a thesaurus and merely listing adjectives, especially the hackneyed ones (beautiful, wonderful, incredible, and the undisputed king of all overused adjectives: amazing—if everything is "amazing" what's left to be ordinary?).  No, you have to try a little harder than that to convey emotion, and that's what good storytelling will accomplish.
It's also important to get into the "meat" of the story as quickly as possible.  Blog posts are short and people's attention spans are shorter still these days—don't waste time with a lot of background.
One trick that I use occasionally is to introduce dialogue within the first few sentences.  Now your reader feels like he/she is right there, eavesdropping in the middle of your conversation. And that's another point: don't start with the beginning of the conversation; drop in on the most interesting part of it. Here's an example from my blog.
https://rickzullo.com/italian-ailments/
When telling a story, you must concede that it's impossible to fully explain everything about a place within the space of a single blog post or article.  Rather, your goal is to provide something more nuanced.   If you can connect with the reader emotionally, you've given them a vicarious experience instead of another boring list of facts and information.  And from there, it's up to them to connect the dots with their own imagination.  In the end, a blog post is like a picture: a single vivid snapshot that merely implies the full cultural panorama.
That's all for today.  In the next post I'll make my first big announcement, and then we'll go on to talk about some of the technical aspects of blogging.