Welcome back for part two of my series on travel blogging basics. (And when I say basics, I mean for absolute beginners.)  If you haven't read part one yet, you can read it here.
But before we get into that topic, I want to make my first big announcement concerning my own blog.  I have been invited as a Top Blogger to TTG Incontri, the leading international trade fair for the travel industry in Italy.  It takes place in Rimini from Octorber 9th to the 11th, and will include 460 international exhibitors and 500 international buyers in the tourism sector.
I am exceedingly honored by this invitation, not only for the recognition of my blog, but more importantly, for the opportunity to help further promote tourism throughout Italy.
This is the second year that they've invited selected bloggers from around the world to take part in Travel Blogger Destination Italy.  The organizers have recognized that blogs are becoming more and more important in the tourism industry as a way to improve online conversations, and raise awareness of tourist operators and destinations.  Each blogger has been assigned to one of the four focus groups: Food, Fashion, Culture, and Travel.
A few months ago, I was contacted by fellow blogger Lorenzo from VisitMantua who has been charged with selecting and organizing the Culture Group.  At first I thought he was joking, dropping hints via Twitter that he liked my blog and was bidding for me to be included at the conference.  I was in the middle of my summer blog tour at the time, and so I sort of put it aside while I concentrated on surviving six weeks with the in-laws in Sicily. I'm grateful and humbled that they did, in fact, invite me to attend this prestigious event.
I'll be joined by a few of my online blogging buddies, such as Elizabeth Joss of The Museum Times and Jeff Titelius from EuroTravelogue.  This is another pleasant aspect of the travel blogging community: I have never actually met either of these two friends in person, but next month we will all come together to share our passion for blogging and Italy travel.
I'll be writing more about this next month, including some "live" updates from Rimini.  I know that most of you who follow my blog are as passionate about Italy travel and culture as I am, so I'm sure that you'll want to hear about my experiences as I engage with the movers and shakers of the Italian tourism industry at the highest level.  Now let's discuss some more travel blogging basics.
Travel Blogging Basics: Technical considerations
First, let me make it clear that I'm not a techie-guru. I don't know how to write code or custom design WordPress themes.  I'm learning as I go, but I'm happy share with you my triumphs and mistakes so that you might benefit from them.  Second, there's just way too much to say on this subject in the space of one post, so I'll be limiting my advice to the very basics for now.  I will try to expand more on this another time, maybe as a regular feature on my blog.  Third, as I implied in my first post, all the elements of blogging (writing, technical, marketing) are deeply intertwined.  I separate them only to make the explanations a bit more digestible.  Some of this technical stuff will overlap with writing and social media/marketing.
Pick a Domain Name…and hope that it isn't already taken
OK, last time we defined your blog topic, found your voice, and identified a few interesting stories to tell.  Now you have to decide on a domain name.  So what will you go for, something straight forward that suggests your blog topic like tastingtuscanwines.com?  Or something catchy/kitschy, like vinodivinointrentino.com?  (Vino divino in Trentino…say that ten times fast!)  Of course, you could do what I've done and just use your name, if it's available.  There are advantages and disadvantages to all these choices, but just know that Google no longer rewards domain names for containing key words.  In our case, having "Italy, Tuscany, vino, ciao, bella" in the domain are no longer given extra points in their search engine algorithms.  In fact, for real people, all those similar sounding sites get confused with one another.  For example, how's anyone supposed to remember the difference between vitabellatravel.com and bellavitatravel.com?  (I can't remember the difference, and I actually own one of those domains.)
Anyway, spend some time thinking about it, because it's something that you'll have to live with for a long time if you establish a blog.  But don't drive yourself crazy trying to come up with the perfect name.
Even before you do that, you should probably decide if you want to use one of the free platforms such as Blogger.com or WordPress.org, or go for a self-hosted site.  Conventional wisdom says that self-hosted is better, because you have much more control over the appearance and performance of your site.  And you own it; you're not merely borrowing it.  If you just want an online journal to share your travels with friends and family back home, then a free site is fine.  On the other hand, if you're hoping to attract a bigger audience, spend a few bucks and buy a domain, and then self-host; it's really not that expensive.
To purchase a domain name, go to any of the reputable sites.  I use GoDaddy, which is probably the most popular and trustworthy.  Once you get on their site, you can search for free to see if the name you want is available.  This might take a while, but it's kind of fun.  If it is available, I suggest buying it right away (again, they're cheap) before someone else scoops it up.  There are lots of people who buy domains simply for the purpose of reselling them at a higher price.
Who will be hosting you?
For hosting, I've been using SiteGround for about a year now, after way too many problems with HostGator.  There's a big company out there called Endurance International Group that owns HostGator, BlueHost, TypePad, and about 50 other brands, all of which are served by the same unreliable servers.  Stay away from these guys—they've let me (and many other dissatisfied customers) down too many times to count.  SiteGround, by contrast, has been great: fast, reliable, and very efficient (even proactive) with their tech support.
Those are the easy steps.  Now things get a little more complicated as far as the technology goes.  But don't worry; there are tutorials to walk you through it.  SiteGround provides these resources, including easy-to-follow videos:
How to Create a WordPress Site
Now let's have a look at the "art" where writing and technology meet.
SEO (Search Engine Optimization)
Once upon a time, long ago (six or seven years ago IS a long time on the World Wide Web), the searches engines were easily fooled.  A person could load up their webpages and metadata with keywords, create hundreds of links to other sites, and just like that their blog found its way to the top of the page in a Google search.  Not so anymore.  Google et al are onto those tricks, and now there are only two ways to get on the front page: 1) pay for it with an advertisement, or; 2) provide awesome content that real people want to read and share.
I'll skip the discussion of paid ads for now, and focus on creating good stuff to read.  This is where we could go back to the last post on writing and highlight some of the points that I made regarding the engagement of your readers, and providing some sort of value for them, whether it be great information or entertainment.
But now we will add another element, which is the spectral presence of Google lurking over your shoulder as you peck away at the keyboard.  Yes, you should always write for real people, but you must also keep the search engines in mind.  (It's Google's world, we're all just visiting it, my friends.)
So as you sit down to write, think of a "keyword," which is the term that you want Google to associate with your blog post.  But here's the thing: you can't just pick "Italy," or "Tuscany."  Those are much too broad you'll never crawl past the big sites like WikiTravel, Lonely Planet, and the like.  Instead, you should choose a "long tail keyword."  In other words, a phrase of about three to five words that is specific to the topic you want to write about—you have a much better chance of being found this way.
Can you guess my long tail keyword for this post?
(Answer: "travel blogging basics")
Besides having your keyword appear 3-4 times throughout the text of your post, it's nice if it also appears in the title of the post, one of the headers, and in the meta description.  You can also place it into the meta data your photos, as well.  All of these things makes your post more attractive to Google for the keyword you've selected.
To assist with this, there are plug-ins to add to your WordPress site.  Here's a post I wrote a while back specifically to demonstrate how this works, and a screen shot from my SEO analytics.

Rick's Rome Blog: https://rickzullo.com/ricks-rome-blog/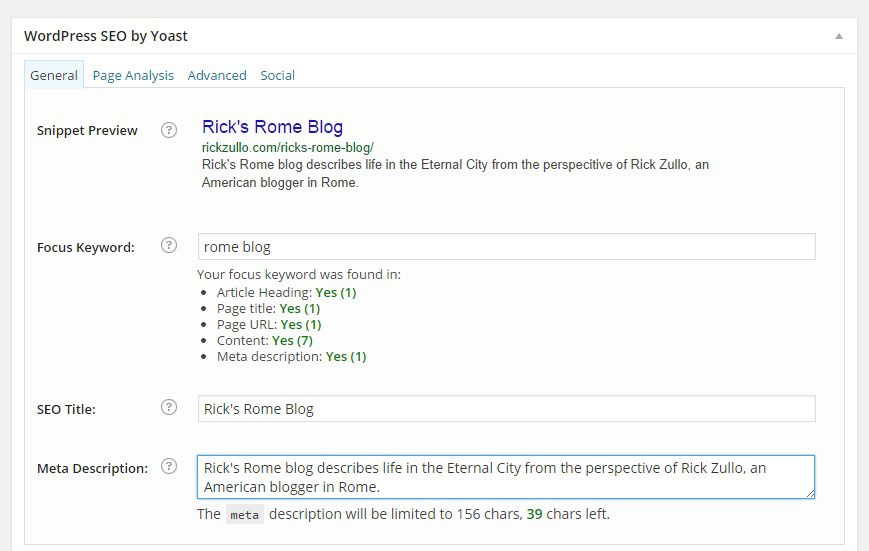 Photoediting
Uffa!  This is an increasingly important aspect of blogging in our visual culture where most folks have the attention span of a goldfish.  Sadly, this is my weakest point, as anyone who follows my blog regularly can attest to.  I know how to do this stuff, but I'm just too slow and therefore don't have the time–or the patience, or the desire.  The painful truth is that I'm missing out big time by not maximizing the potential of optical impact.  Hell, I don't even have a Pinterest account, which is a huge sin for a blogger.  (Do as I say, not as I do, kids.)
Still, if YOU should wish to master this skill, there are some good resources available at your disposal.  I recently came across this helpful article:
The topic of visual elements should be an entire separate discussion, so I'll leave for then.
Wow, this post has gotten really long and I've barely scratched the surface.  But I'm going to stop for the day, and next time we will pick up with my second big announcement and a discussion on integrating social media promoting with your blog.