OK, so if you've been to Rome once or twice already, you might be looking for some unique Rome tours that will help you get acquainted with this ancient city on a deeper level. Not that you'd EVER exhaust all of the stops on a standard checklist—heck, even most native Romans don't see "everything" in a lifetime.
But stepping off the beaten path can give you a whole new appreciation for the complexity and richness of Roman culture and history. Today on the podcast I spoke with Beth Rubin from Select Italy tours, and we discussed a few unique Rome tours for curious travelers who want a few experiences that they haven't seen in the movies or someone else's vacation photos.
Unique Rome Tours
Rome Underground: San Clemente. This is one of my favorite places to bring family or friends visiting Rome. For one thing, it's so unexpected. You enter the 13th Century Basilica at street level, then descend into a 4th Century church—and then go down further still into a 1st Century Roman house. It's the metaphor of Rome's "layer of history" brought to life in a very literal way.
Another bonus: when visiting in July or August, the lower levels become progressively cooler as you descend, until you find a refreshing 60 degrees Fahrenheit at the bottom level. Bring a picnic lunch and stay all day! (Kidding)
Dungeons of the Colosseum: Behind-The-Scenes Tour. So what happens to the Gladiators who lose their battles? Yes, I've seen the Russell Crowe movie, too, and it wasn't pretty. If you didn't become the pranzo of a lion, then you got thrown in the dungeon where your prospects of a long life weren't good.
This tour also includes the view from above, the so-called "upper tiers." These two areas cannot be accessed with a standard entry ticket to the colosseum, so if you want the "backstage pass" experience, then this is the way to go.
Become a Roman Gladiator for One Day. Yes, this one is tailor-made for families, because let's be honest, I don't know of any 8 year-old kids who are saying, "Please, dad, can we go see another Flemish tapestry or Baroque statue?" The bambini enjoy the ambiance of Rome, but many of the famous sites are just plain boring to them. And you can only give them so much gelato in one day.
My little princess fancies herself quite the warrior at times, and I'd love to dress her up as a gladiator and watch her take on the entire asilo nido from the local parish in a mock battle. To the victor goes the Kinder Eggs! What great photos to have as souvenirs of a family vacation!
Tour Rome in a Vintage Fiat 500. I love this idea. They have a Vespa tour, too, and I'm not sure that a 500 provides much more protection against the swarms of aggressive drivers around Piazza Venezia. But I can just imagine channeling the spirit of Marcello Mastroianni as the car swerves down the Via Veneto escaping from the paparazzi. OK, well, you might have to use your imagination a little bit, but I truly love these cars, if only out of nostalgia.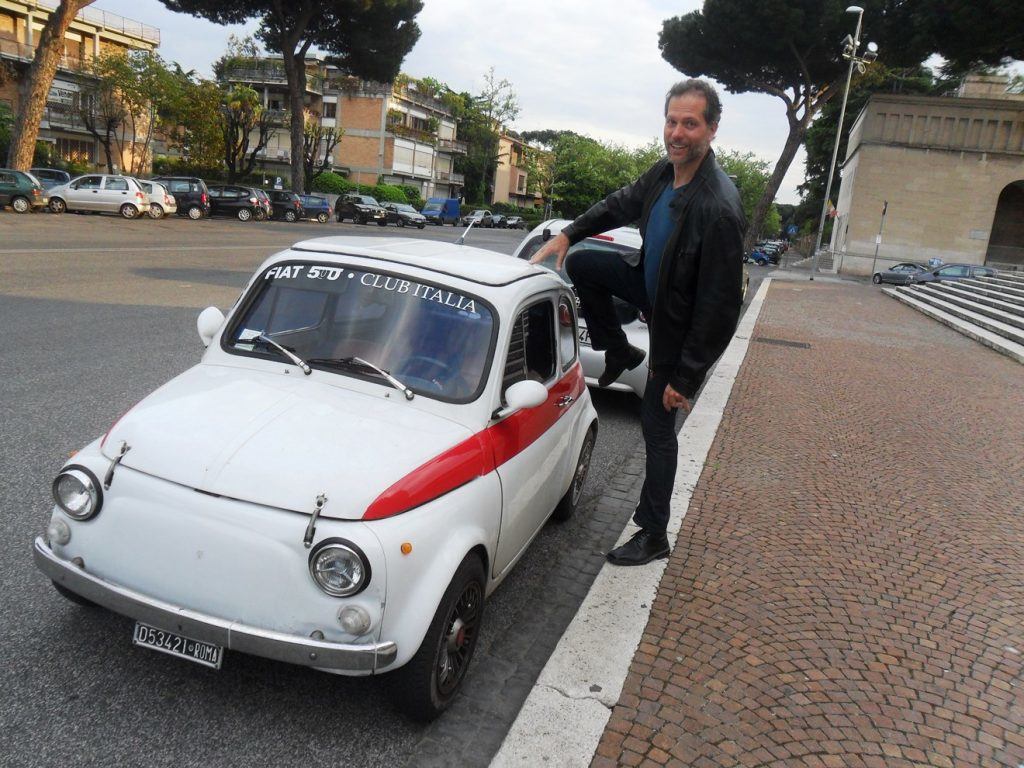 One bit of advice for the taller ones among us: you might want to warm up and stretch a little bit before attempting to contort yourself into the vehicle. Or request one with a sunroof.
Day Trips from Rome. Not surprisingly, when Beth and I discussed our favorite day-trip from Rome, we both said Tivoli. And when talking about Tivoli, I automatically assume that we're talking about the Gardens at Villa D'Este.
After a few hectic days in the city center, it's soooo relaxing to wander around the lush elegance of Villa D'Este's sculpted hedges, worn statues, and cascading water features. The star of the show is the famous "singing fountain," (Fontana dell'Organo), which uses hydraulic energy to power an automated pipe organ that plays a tune every two hours. Don't miss it!
Select Italy with Beth Rubin
During our conversation, Beth and I also discussed tips for visiting Italy during peak season. The crowds, the heat, and the higher prices—all the reasons that people tell you NOT to visit during the summer. But the summer also offers some of the best opportunities to enjoy Rome, and we talked about those during this episode.
I'd like to say "Grazie" to Beth Rubin for coming on my podcast today and talking about some of the unique Rome tours that will get us off the beaten path and bring us closer to the real Mamma Roma (the city, not Anna Magnani).
Beth was modest during the recorded portion of our interview, but we spoke beforehand and I'll tell you what she didn't mention on the show. This year she was awarded "A-List Status" by Travel+Leisure for Italy Specialists. For those of you who want personalized, custom tours of Rome or anywhere in Italy, email her directly at [email protected]
I'd also like to thank her company, Select Italy, for sponsoring today's episode. I highly recommend that you check out their unique tours of Rome when planning your next visit to the Eternal City.
Click the link to check out other episodes and see my list of the best podcasts about Italy.
Podcast: Play in new window | Download (Duration: 25:32 — 23.4MB) | Embed
Subscribe: Apple Podcasts | Google Podcasts | Email | RSS | More