You might say that I'm living the dream.  A few years ago I came to Italy on an extended vacation (I called it a "sabbatical" just to make it sound impressive, but let's be honest…). 

Read More...

However, Italy is not without its challenges.  When we see the movie version in, "Eat, Pray, Love," or "From Rome, With Love," we see an overly-simplified, idealized presentation.

Read More...

The more time I spend in this perplexing country, the more I discover just how little foreigners (including myself) understand its diverse culture.  Italy is NOT the same country from North to South. 

Read More...
An American In Rome
 
Benvenuti a tutti! 
Thanks for stopping by my blog where I attempt to decipher Italian culture for the English-speaking world.  It's always my intention to go a little deeper—beyond the stereotypes and la dolce vita—to discuss the many reasons why this beautiful chaotic city continues to inspire the dreams of travelers and expats year after year.  Travelers, if you're new to my site, you might want to start here.  Expats, check out this post.
Let's Connect!

24 February, 2014 By Rick 18 Comments
I must be getting sentimental in my middle-age.  A few weeks ago I talked about weddings and now I'm recalling a Valentine's Day a couple of years ago—Jessica and I strolling around the gardens of La Reggia di Caserta, just outside of Naples, in the clear, crisp February air.  Soon after arriving, I had noticed a man with a horse-drawn carriage riding around the grounds and thought, "My, how romantic.  Maybe I should inquire into his services and impress my fidanzata."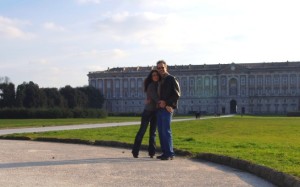 Sure enough, as he drew closer, he began to shout.  I couldn't really understand him, but it seemed obvious enough I was being subjected to his sales pitch.
I cut to the chase, "Quanto costa?"  How much?
I don't think he actually heard my words, as he continued his passionate monologue, determined to make me hear the whole spiel before the bargaining process began.  Finally, I reluctantly gave up my role in the "conversation," shrugged, and turned over the reins to Jessica and her knowledge of Neapolitan dialect.