The Eternal City—there's enough to see within the confines of the Aurelian Walls to keep even the most determined traveler busy for, well, an eternity.  Most native Romans don't fully know their city; there's just too much.  Does anybody—local, expat, or tourist—know where La Fontana delle Naiadi is located?  It's huge, maybe one of the biggest fountains in Rome and thousands of people see it every day.  And yet few people know it by its actual name.  (F.Y.I. It's the one in the middle of Piazza della Repubblica.)
So if everyone agrees that Rome has so much to see, why would you need to venture outside of the historical center?  Well, you don't, of course.  But sometimes the chaos of the Caput Mundi can wear on you and it feels liberating to get out into the surrounding hills or seaside to breathe some cleaner air.  Therefore I'd like to suggest a few easy day trips from Rome that will allow you to slow down a bit and catch your breath.  However this list is not short either, so I hope to make this post the first of an ongoing series.
Ostia Antica
Everybody knows about this place, but surprisingly few tourists make it here.  It's one of the best archeological sites in all of Italy.  I'm not sure why it's not visited more often since people make the effort to visit Pompeii, and yet Ostia is so much easier to reach.  And less crowded, even in high season.
To get there, take the Roma-Lido Train from Piramide/Porta San Paolo.  ATAC tickets (€1.50) and the Roma Pass are valid on this train.  Departures are about every 15 minutes and the trip takes about 40 minutes. From the Ostia station, it's just a short walk to the Ostia Antica excavations.  They open at 8:30 and the closing time varies with the season. (Closed Mondays, admission €6.50.)  Later, you can board the train again if you'd like to visit the beach at Lido di Ostia where you can find a few good seafood restaurants.
Originally a colony of Rome, Ostia grew to become the major port of the ancient city, as it is situated on the mouth of the Tiber (the word "ostia" means mouth). The town's growth started during the late Republic, but expanded rapidly under Emperors Claudius and Trajan. Ostia was deserted after Rome's fall in 476 AD, and the buildings fell into ruins which were eventually covered by sand and mud from the Tiber, which is why we have them so well-preserved today.
It's really such an easy, enjoyable day.  You can do it at your own pace with a simple map (you buy them there or download from the Internet) and/or an audio guide (ditto). Rick Steves has a good one.  It's a fairly large area and it invites wandering and exploring.  There's also a theater which occasionally holds productions in the warmer months.
Marino
Marino is a city and comune in the Alban Hills, about 13 miles southeast of Rome.  It's located in what's known as the "Castelli Romani," the collective name given to all of the little villages in this area.  What's more, Marino is easily reachable by train from Termini station.
And why would one want to visit Marino?  Well, there's the Basilica of San Barnaba with its Baroque style and imposing façade dating back to 1653; there's the Fontana dei Mori, depicting prisoners from the Battle of Lepanto; and an important 2nd century fresco, Mithraeum, portraying the God Mithras slaughtering the bull.  Blah, blah, blah…
The real reasons to visit Marino are much easier to explain and there are only two of them, both relating to the more corporal pleasures of eating and drinking.  The first is porchetta; that storied Roman specialty which represents the highest expression of the lowly swine.  Here in town center of Marino you'll find many street shops selling porchetta and porchetta sandwiches in the open air.  Get a little bottle beer or glass of vino and you might just have the best meal of your vacation.  And speaking of vino…
Reason number two to visit Marino: the annual Grape Festival (Italian: La sagra dell'uva). It takes place every year on the first Sunday of October, so mark your calendars now.  Seriously, you'll need to plan ahead.  I tried to go in 2011 but when I arrived at Termini station to catch the train at around 11:30, the "cattle car" was already so full with eager teenagers on their way to the party that there were literally arms, legs, and other body parts hanging out the window of the train.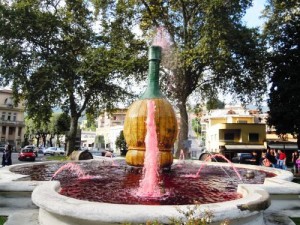 So why is everyone so keen to participate in this particular event?  After all, it's not the only autumn wine festival in Italy.  No, but this one is very famous because, during this weekend, some of the city's fountains spill actual wine instead of water!  Is this a great country, or what?
When in Rome
Of course, there are many other great day trips from Rome which I plan to share in the coming months, so check back once in a while.  My goal is to suggest locations that are both interesting and easy to reach.  A few of them might require a car (such as Bomarzo and Civitá di Bagnoregio), but I'm trying to focus mostly on the ones that can be reached by train or bus.  If you have any of your own ideas, please let me know and I'll try to follow up!