Italy has many personalities, each with its own appeal. There's the high-fashion, all-business vibe of Milano; the crumbling chaos of Roma Anitca; and the hot-tempered passione of Napoli.
But when all of that feverish sight-seeing wears you out, you might want to slow down and head for the cooler confines around Lake Garda.
During my one and only trip to the Veneto side of Lake Garda during a blog tour in 2014, I could physically feel my blood pressure drop when I arrived along the shore and sat down to slow lunch with views of castles and swans. Like a fairy tale, only with better food and no ogres.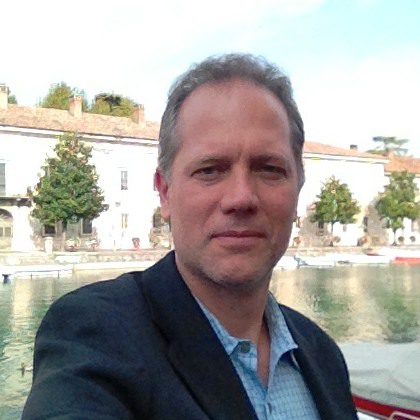 Come with me as I relive an enchanting week in October, which can serve as a rough outline for anyone else looking to immerse themselves in that famous Italian charm, without all the frenzied touring.
I don't usually recommend hotels, because people's tastes vary so much. When someone asks me to suggest a "good" hotel in Rome, I have no idea where to start, or what "good" means if I don't know the person quite well.
That said, nobody will be disappointed at Le Ali di Frassino, located just 3 kilometers from the lakeside village of Peschiera del Garda. This hotel sits on a smaller lake of its own, and the morning views from the terrace of your room are "dreamy," for lack of a better word. The property boasts a world-class restaurant, a spa, and a cascading swimming pool that's even more dramatic when lit up at night (see photo).
The historic center of Peschiera del Garda was built around an island fortress at the southernmost tip of the lake. Our group enjoyed a fantastic banquet along the banchina with barche coming and going through the waterways right behind us. Indeed, once lunch was finished we all jumped on a boat and took a leisurely cruise around the fort. The "acqua" version of a post-meal passeggiata.
What to Do Around Lake Garda
The area is perfect for quick side trips, and there are many attractions nearby. For example, I really enjoyed my visit to Museo Nicolis. Sure, you've been to museums in Italy before, but probably they had more to do with Renaissance art and ancient history.
This museum celebrates modern achievements of design and mechanics, for which Italians also excel. There are hundreds of automobiles, motorbikes, and bicycles from the history of transportation. Other mechanical relics, as well, such as jukeboxes, photo cameras, and typewriters. It's a part of Italian history that often goes overlooked in this cultural wonderland.
But if museums aren't your thing, there are plenty of quaint villages to explore, such as Valeggio Sul Mincio and Borghetto. This little hamlet is actually quite famous for many things, including the birthplace of tortellini. (I even took a class on how to properly make tortellini at the Pastificio Re del Tortellino. Alas, my talents lean towards eating these little pockets of pasta perfection, rather than assembling them.)
This was also a strategic location during wartime, and you can easily see how the old dam, the Visconti Bridge, and the Scaliger Castle are integrated into a fortified complex known as the Serraglio defensive line. The Mincio River runs right through the center of Borghetto, making it an ideal setting for strolling and photographs, even for a photographically-impaired writer like me.
How to Get There and When to Go
Getting to this area is quite easy by train. From Milano Centrale, there's a train to Pescheria del Garda that leaves every 30 minutes. The trip is a little over an hour and costs only 10.50 € per person.
As far as when to go, I always suggest the shoulder seasons. I was there in mid-October, and the weather was perfect except for one afternoon shower. The summers tend to be more crowded, which also means more expensive.
This location has something for every type of traveler, from romantic couples, to families with children — GardaLand Amusement Park is very close by. In fact, this might be the most family-friendly part of Italy for foreign tourists. I'm looking forward to returning with my little bambina one day soon. She's met Mickey Mouse…let's see what she thinks of Prezzemolo!
If you want to learn more about the varied offerings in this corner of Italy, go check out the Garda Veneto official website. Buon viaggio!