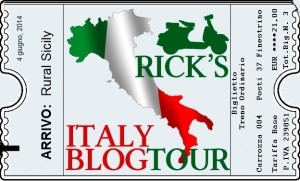 "Where are we staying again?" I asked my wife, as we drove through a remote area of southeastern Sicily last month while on my blog tour.  We were bumping down a dusty path, abandoned by reliable road signs long ago, hopelessly consulting a map that resembled someone's failed attempt at origami.  Before leaving on this epic journey at the end of April, I had handled most of the communications with the hotels, B&Bs, and agriturismi.  This one, however, she had taken care of without my intervention.  I was starting to question that decision.
"It's called a 'masseria,'" she replied, as if it were the most obvious thing, like a Howard Johnsons or Days Inn.
"OK then, what is a masseria, exactly?"
She paused, then started to answer, using random hand gestures to aide in her description, "Uh, well, you know, it's one of those…places.  Like…like…a masseria!"
I could see I wasn't going to get far with this.  In fact, as it turns out, it's one of those words that doesn't have a perfect English translation.  When I looked it up with Google translate, it simply said, "farmhouse."  But that's not entirely accurate.  For an accurate definition, I had to consult Italian websites.
Originally, these "farms," were actually closer to what we might call a "plantation" in the Southern U.S.  They were a product of the Spanish colonization in the 14th and 15th centuries, when large swaths of uncultivated land in Southern Italy were given to wealthy barons who ran these agro-businesses—raising animals and growing wheat—while also living on the premises themselves.  For this reason, a masseria is large and rustic, but also a bit elegant to satisfy the refined tastes of Spanish noblemen.
These features make them ideal raw material for present day accommodations.  You get the feel of a farm, with the comfort and luxury of a country estate.  It's also been a great way to preserve these historic structures, and thereby preserving this period of history in Southern Italy.  We could even compare the masserie to the paradors in Spain, or even the Relais & Châteauxs in France.  (The key difference, however, is that unlike their Spanish and French counterparts, the masserias in Italy are not managed by the State; they are all private enterprises—which is a good thing, in my opinion.)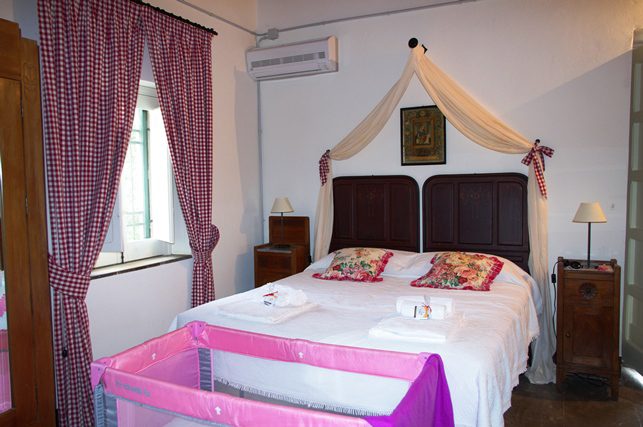 The place that we stayed at was Masseria Cianciò, somewhere between Ispica and Pozzallo.  Don't ask me where, exactly, because like many of the wonderful, unique spots we found along our route, it's not easy to locate on a map.  Even the GPS on my iPhone was confounded by the challenge.  Technically it's in the village of Graffetta, but I never caught sight of a village while staying there.  And that's part of the charm: you're out in the open, clean air, lots of relaxing peace and quiet, and slow time to enjoy the atmosphere.
That's not to say that there isn't anything to do on the property.  They give cooking lessons, have a nice little library in the main house, and there's a beautiful swimming pool to cool off from the hot Sicilian sun.  In the summer months, the pool area also becomes a venue for evening BBQs, parties, and musical events.
However, Masseria Cianciò is also well situated in this little Baroque corner of Sicily, and visiting Modica, Scicli, and Ragusa are only a short drive a way.  Pozzallo also has a harbor, and there are regular ferries to Malta from there, which would be a great day trip.  I wish we would have had time for that, but unfortunately we didn't.
This was obviously my first time to a masseria, so I have nothing to compare it to.  But compared to other options in Sicily, I would say that this would be hard to beat, especially in terms of authenticity.  Certainly it was much nicer than the "resort" we stayed at in Agrigento.  Our hostess, Signora Gina Ricca, decorated the property herself; rustic but elegant, staying faithful to the original style.  She obviously takes a lot of pride in her masseria, and goes out of her way to make her guests feel like, well, guests, and not just customers.  This is something that we found throughout Italy….local business owners who genuinely want to connect with travelers, and help them appreciate their version of an authentic Italian lifestyle.
Live Like a Sicilian
When staying in Palermo for a couple days, for example, I would suggest staying in or very near the city center.  There's plenty to see within walking distance, and it's just easier to manage given the traffic, etc.  But in other parts of Sicily, I recommend being a little bolder and venturing out of the towns and into the countryside.  Here you'll glimpse back in time at the history of Sicily—while still enjoying modern comforts.
When visiting such areas, my advice is to take your cues from the Sicilians and plan your day like this:
Wake up in the morning (not too early), and have a nice, light breakfast.  At Masseria Cianciò, everything is homemade and fresh, and very tempting.  Enjoy, but resist eating too much at this hour, as it will only weigh you down for the rest of the day.
Take a short drive into town and stroll through the historic center (we went into Ispica one day).  Check out the Baroque Churches and the local sites/monuments at a leisurely pace. Stop for another coffee mid-morning.  Then around 12:30, start peeking into the doorways of local restaurants and have a good, deep sniff.   Let your nose decide, make a mental note, and then continue your passeggiata for a while.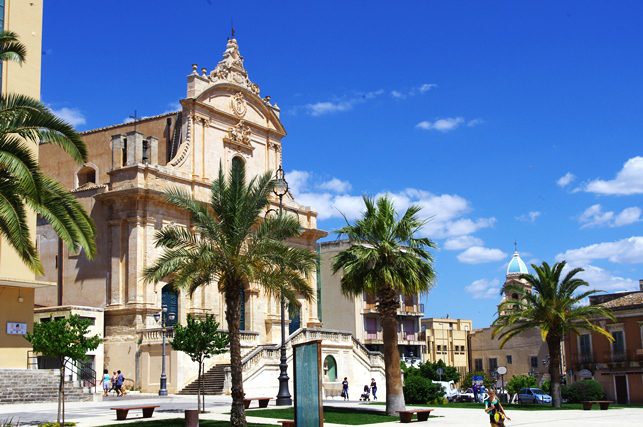 Return to your restaurant of choice around 1:30, then sit back and let the proprietor take care of you.  Appreciate the fact that you're undoubtedly in one of the best (if not THE best) places on the entire planet for delicious, healthy food.  Order a bottle of the local wine, and make a deliberate effort to eat and drink as slowly as possible.  Don't forget dessert.  This is the birthplace of cannoli, after all.  To skip this treat while in Sicily would be an unforgivable sin.
Now it's the heat of the day, so go back to the masseria.  If you're a bit sleepy, take a nap—it's OK, you're on vacation, right?  Open the window and let the breeze come in.  If you're not sleepy, grab a book and head to the pool.  In any case, rest and let your lunch digest.  Now you're really channeling your inner Sicilian.  Lunch is important.  Rest is important.  Fresh air is important.  These things make us feel good and keep us healthy.  Appreciate them.  (By the way, television is NOT important, and they don't have them in the rooms at Masseria Cianciò.)
Travelling in Italy
Listen, I'm one who has to constantly remind myself of my own advice.  Slow down and enjoy the pace of life in Italy, especially in the South.  When strolling with my wife and baby, I always walk too fast, three or four steps ahead of them.  When I visit a town for the first time, something inside of me is determined to see everything on the proverbial checklist on the first day.  This is absolutely the wrong way to experience Italy.
I'm getting better, and one of the things that I learned on this trip is that it matters where you stay.  In the past, my tendency was to choose a big hotel in the very center of the city so that everything that I "needed" to see was close.  This might even still be the best option in a big city like Rome or Palermo—IF you're only in town for 2-3 days.  But even in these busier locations, I would still argue that you need to slow down.  When you're ready, the masserie await.  So what is a masseria exactly?  It's where all the best of Sicily comes together in one relaxing place.