While attempting to take notes in a bouncing van just outside of Florence, I listened to my guide Anna describe our first stop on our tour of Chianti.  "We will be traveling along the Via Francigena, stopping at San Donato where you will see a typical Tuscan hilltown which sits along this very important route."
"The Via who?" I asked.
"The Via Fancigena.  You know, the pilgrim route from France to Rome.   Actually it goes all the way back to Canterbury, England, as first described by its archbishop, Sigeric the Serious, in the tenth century."
Was I sleeping in history class that day, or did I just not understand the Italian pronunciations?  Or maybe it wasn't my history so much as my catechism that was lacking.  Quite probably, all of the above.  I tried not to let my ignorance show.  Anna was too busy driving to notice, and at that point she was in full storytelling mode.
The Via Francigena and Banking
The first Christians in what is now France created roads between the most important places of Christianity, such as Santiago de Compostela, St. Michel, and Canterbury.  And of course Rome, where they stopped on their way to Apulia, boarding ships to take them to Jerusalem.  This "pilgrim road" borrowed some of the miles along the former Roman road named "Via Cassia," but with the addition of new routes, it became The Francigena.
Very soon after the pilgrims established this road, it went on to become a useful trade route for merchants.  All along the way, these travelers spread new customs and ideas, as Chaucer wrote about in The Canterbury Tales, describing how different cultures would meet at a typical "hostaria," sharing stories and adventures over a glass of wine.
Traveling along the Via Francigena also meant currency exchange, so the banking system became more and more vital to satisfy the merchants' needs.  Of course, during the middle ages, banking was the exclusive business activity of the Jews, since the bible (apparently) forbid money handling by Christians.  But after the secular Republic of Siena started its own monetary system with a silver coin, Florence received permission by the Pope to do the same.  Their "Florin" was a gold coin, however, so even inside Tuscany, travel required currency exchange.  Consequently some of the villages along the Francigena became crucial stops for conducting banking activities.
San Donato in Poggio
One of these stops was San Donato in Poggio; a lively, well-preserved hilltop town where about 800 people still live today, in a place recalling centuries past.  Once upon a time, the art of banking was a common business in this village.  Unfortunately, someone with poor and/or creative math skills would occasionally foul the books and subsequently run out of money.  This type of fraud made the whole town look bad, so the city government did not take it lightly.
Banking was done on top of a desk, called a "banco."  And when a failed money lender was convicted of fraud, the town's mayor would show up at his place of business with a large, heavy axe, and smash the desk into pieces: "rompere il banco," a practice still evident these days in the modern Italian word "bancarotta," or in English, "bankrupt."
Today San Donato is dormant in the morning, but very energetic when all residents are back from work, sitting outside the cafés with their espresso.  They are happy to see the occasional tourist around, because they are very proud of their small community, preserving the visual traces of the 9th and 12th centuries—like the tower where a treaty was signed between Florence and Siena in 1265.  The walls from that period are still standing, and they are a good example of "incastellamento," or the fortification of a village—which started after the end of the crusades to thwart the risk of being sacked by former crusaders turned bandits (religious zeal is all good and well, but it doesn't put bread on the table, after all).
Volpaia and a Tuscan Lunch
All of this "pilgraming" and "crusading" was making me hungry, and Anna knew just the place to help satisfy my desire for some of that famous Tuscan cuisine.  No, this food has nothing to do with the perplexing "Florentine Chicken" or the lamentable "Tuscan Salad" that you might find on any random "Italian" restaurant menu in the U.S.  This was the real deal.  But it wasn't so easy to find.
The tiny hamlet of Volpaia is dominated by a 12th century castle and a few well-preserved medieval buildings where a population of less than 30 citizens are still living and upholding generations-old traditions.  At a vibrant little wine bar/trattoria called Bar Ucci, Paola Barucci is running her family owned business, while her sister operates a competing restaurant literally across the street.  Funny.
Paola serves her "cucina povera" to clients and friends from all over the world.  Simple, traditional meals based on basic Tuscan ingredients, and using vegetables from her own green garden for the Ribollita soup, crostini misti, bruschetta, panzanella, and insalata di farro (spelt salad).  And she has a great accent.  If anyone has ever told you about the Tuscan accent, but you were unable to detect the subtleties, talk to Paola…nothing subtle about the way she shouts "Ciao, Haro!" as you walk into her bar.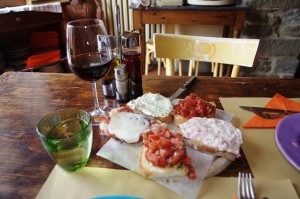 For carnivores like me, she serves cured meats such as finocchiona (salami with fennel), prosciutto toscano (salty and spicy), and wild boar (cinghiale) salami.  Remember that, besides the cured meats, Tuscan cuisine is not that salty.  The bread is especially notable for its lack of salt.  In fact, in the past it was completely unsalted—which is why Tuscan bread is often called "pane sciocco," no salt.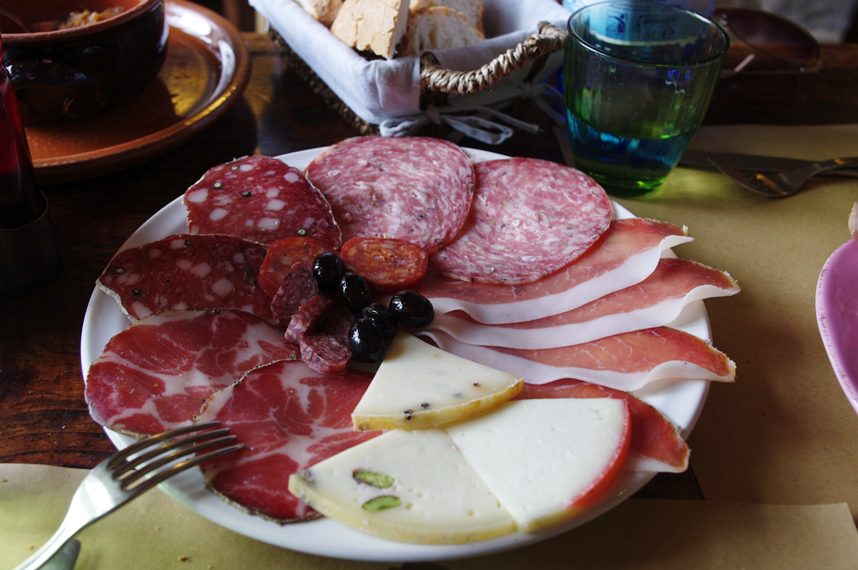 Frankly I find the bread quite tasteless by itself, and I asked Anna why they make it that way.  She said, "Today it's made that way out of tradition, but in the past it was necessary so as not to waste salt. The inland areas of Tuscany did not have easy access to the coast, which is where the salt came from.  Pisa controlled the sea ports, and when there were occasional wars between Florence and Pisa, the Pisans would close the Arno River so that no salt was able to reach Florence.  Consequently, the Florentines started to bake without it, saving what precious little salt that they did have to cure the meats.  Salt was very pricey back then.  It was highly valued even back in the Roman times when magistrates and soldiers were paid in salt—and  this custom is still evident in the etymology of the Italian word 'salario,' or in English, 'salary.'"
Chianti Classico – Monterinaldi
So we had a delightful lunch at Paola's place, and I had a glass or two of Chianti Classico to wash it down.  That's one of the great things about hiring a driver—no need to hold back on the wine tasting.  In fact, our next stop promised plenty more of that.  My day just kept getting better.
Notice the label on any bottle of Chianti and you'll see the Gallo Nero (The Black Rooster), the symbol of the biggest Tuscan wine region which lies between Florence and Siena.  The presence of this emblem tells you that it's a unique and highly regulated wine, adhering to all the DOCG rules such as area of production, and grapes acceptable for the blend.  Specifically, it must have a minimum of 80% Sangiovese blended with other local grapes such as Canaiolo or Colorino.  Furthermore, there's minimum amount of time that it must age in barrels (18 months for Chianti Classico, and 24 months for Riserva).
Anna and I visited Monterinaldi, a winery located on the border between the Florentine and the Siennese part of Chianti Classico, in the province of Radda in Chianti.  The estate has been producing wine since the year 1,000.  Wow.  Of course, originally it was a modest production arising from a share-cropping system, which probably churned out a barely potable "farmer's" wine.
They've come a long way in a thousand years.  Today it's a medium-sized producer (total average production is about 120,000 bottles) of high-quality Classico, Riserva, and a great Super Tuscan wine called "Pesanella."  This Super Tuscan represents the new style wine, an "international" blend; a social wine created by the wine maker Mauro Bennati, who has been working for the owners Daniele Ciampi and his wife Maddalena for the last 20 years.
As if the wine weren't enough to "intoxicate" you, the tranquil setting is an 18th century villa surrounded by a fairy tale garden framed by cypress trees.  The sales manager (and wine expert is his own right) Fabrizio gave me the full tour of the estate.  This is the perfect venue for a peaceful, informal wine tour.  They offer wine tastings, food pairing sessions, and even a class called "wine maker for a day," where you get to blend your own wine, name it, create a label and take it home with you.  If it makes it that far.
I left the wine expertise up to Mauro and Fabrizio, and I'm glad I did.  They gave me a bottle of their Riserva and I brought it over to our friends' house for dinner that night, where the wine consummated its relationship with a nice bistecca fiorntina in a spectacular fashion.  (I was praised for selecting such a sublime nectar…I didn't have the heart to tell my hosts the truth.)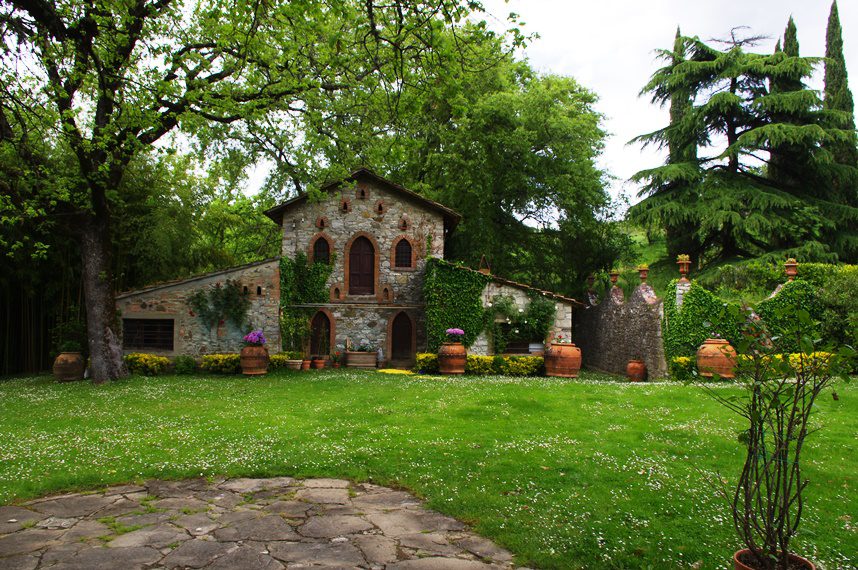 Once again, I thank my friend Anna for a perfect day in Chianti.  If this is your idea of Tuscan bliss, look her up.  She'd be glad to share her passion for this region with you.
Anna Maria Madaffari of Cooltours
+39 347 707 1332