My New and Improved Rome Blog
(Now even tastier, with extra fat and more calories added for your enjoyment.)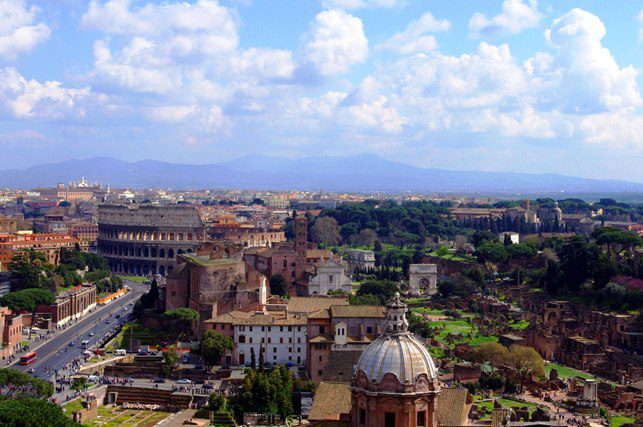 Today's post will be a mixed bag of info and updates.  First off, you may have noticed that I'm redesigning my Rome blog, so I'll ask that you have a little patience while I undergo this overhaul.  The new design is still a work in progress and I would appreciate any feedback you can give me.
I started this Rome blog almost 11 months ago and I'm quite pleased (and surprised) with how it has progressed to this point.  What originally began merely as an outlet for sharing my thoughts and experiences on Italy has grown into a fun little headache…I mean hobby.
What's interesting about this sort of endeavor, and I suppose it applies to any type of writing project, is that the through the process of writing about a subject, you slowly "discover" things that you sort of knew, but have never thought to explain to yourself.  I'm certainly not the final authority on Italy—or on anything, for that matter.  But the writing process has helped me digest and clarify my thoughts and views.  So at least now I sound like I know what I'm talking about (even if it isn't often the case).  To wit…
I read it on the Internet, so it must be true!
Something else I've learned about: the true power of the Internet, search engines, and social media.  It turns out that in this day and age, "Authority" comes mostly from your ability to promote your ideas and opinions; and it has very little to do with their relevance or fidelity to the truth.  I saw a similar phenomenon during my time at Pfizer Italia, where important global meetings were dominated by the people in the room whose English was the best and NOT by the people who knew the most about the subject at hand (whether it was pharmacology or marketing).  Similarly, this is how we get our information via the Internet.  Generally speaking, people who have mastered "the language" of cyberspace have a much larger audience than the folks with actual real-world credentials.
And notice where you find these "authorities."  Most often they're addressing a fear (diet/nutrition/weight loss) or a problem (credit score/foreclosure/English proficiency).  They prey on people's desires and at the same time protect themselves with anonymity.  But sometimes the subject is merely something banal, like Italian Superstitions.  I knew nothing about the malocchio until I started researching it six months ago for a post I was writing.  That post went semi-viral and voila! Google now says that I'm the English-speaking expert on the matter.  If you need any more proof than that regarding the dangers of placing your trust in self-proclaimed Internet experts, then I can't help you.  I wish you the best of luck in your misguided dieting, poor credit score, and bad grammar.
So, given that, here are my top four categories of "authority."  Every day, many lost souls find their way to my Rome blog in search of information on the following subjects (in order):
4)      How to Dress Like an Italian
Of these, the "Permesso" is really the only topic on which I actually know a thing or two, mostly based on my eight month battle against the forces of evil (a.k.a. Italian bureaucracy).  But I've also done additional research, I've listened to many other tragic tales, and I've engaged in heated conversations with government employees who, incredibly, all seem to be in agreement as to where I should place my Permesso application form (although I'm quite sure I'd need the help of a physician to comply with their request).
Expats Blogging in Rome
So you want to start your own Rome blog (or any blog)?  Great, I hope you have lots of free time to devote to the learning curve.  Because it's not just writing; you have to figure out how to use WordPress, how to optimize photos, how to interact on social media platforms, and loads of other time-sucking activities that have nothing to do with writing.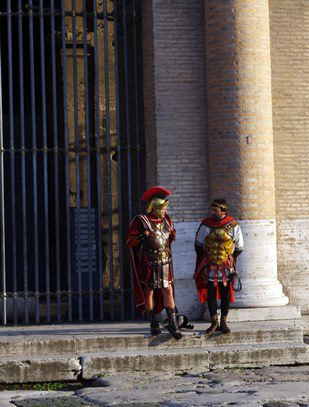 But if you're like me and your stubbornness usually trumps your common sense, then I can offer a couple of small tips to get you started.  1) As far as the writing, probably the most important thing is consistency.  Some bloggers post once a day, some post once a month; I post once a week.  But I post EVERY week and almost always on Tuesday or Wednesday.  2) Word count: the posts should neither be too short nor too long.  Most sources agree that somewhere between 700-1200 words per post.  When in doubt, write longer articles and post them less frequently.  But again, consistently.  3) Get your own self-hosted platform.  There are lots of free platforms out there, which are OK if you merely want to keep an online journal.  But if you're going to be at all serious about blogging, spend $10 on a domain name and $8 a month of hosting service.  4) Keep your pages visually simple–a lesson that I've eventually learned.
Those are the basics to get started, but of course there's a lot more to know.  For example…
Choose your topics carefully
One of the trickiest things to accomplish is finding a balance with the potential readers.  What I mean is that some people who find my Rome blog are "new to Italy," and any in-depth discussions on Italian politics, the bureaucratic mess, the economic crisis, the subtleties of campanilismo, etc. would simply be lost on them.  At the same time, Italians, expats living in Italy, or other folks well acquainted with the landscape don't care to read yet another article about the best gelato in Rome.  So that balance is hard to find.
Also, strong opinions will always make somebody angry and it's a no-win situation.  People who agree with me probably just nod their head and move on to another article while people who disagree often feel compelled to voraciously defend their point of view and/or expound on the limitations of my personal I.Q.  Which is fine—I rather enjoy debating people who have informed opinions contrary to mine. Sometimes they even change my mind.  But what it is more difficult is getting caught between two opposing readers, neither of whom I know very well.
I$ it worth my time?
I also get asked if I make money with my Rome blog.  Well, luckily I didn't get into this for financial gain.  The answer is yes: my blog earns enough to pay for itself—hosting service, domain name, auto-responder, etc.  But that's it.  It's sure not paying the rent, I can tell you.  What could almost pay the rent, however, is the sale of my eBooks on Amazon.com.  Not yet, but it's slowly getting there.  Of course moving to a cheaper apartment might be an easier route towards that goal.
Some of the most popular ways to earn money with a blog are through Google Adsense and affiliate marketing programs.  I've experimented with both of these, but honestly, unless you get 10,000 people a day visiting your website (which I don't), then it hardly seems worth it.  Individual advertisers have approached me, but I've said "no" so far.  I might reconsider this in the future, but at this point I don't feel like it's a good deal for either party.
Ciao, Google!  Eccomi qua!
Now, if you'll notice, I've done a couple of clever things within this post for the purposes of demonstration.  I usually don't do much of this, but because the subject matter is about the dynamics of Internet algorithms, I've stuffed this post full of my keyword (count how many times you see "Rome blog"), linked to several other pages both internally (my website) and external (other authority sites), and basically hammed it up for the search engines.  In the long run, this isn't a good strategy.  Really you should just write, keeping Google in the back of your mind, but never let it control your thoughts.
Well, I guess I've reached the limit of my word count and I've fulfilled my obligation of posting for this week (not to mention the number of time that I've used the term "Rome blog").  By next week I hope to have most of this technical stuff worked out and so I'll be back to pontificating on the merits and difficulties of life in Italy.  It's more interesting and there's still so much territory to cover!
A presto!