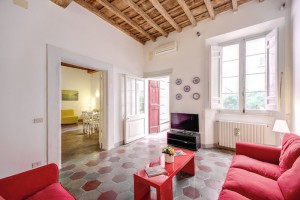 I get emails all the time asking for advice on finding quality accommodations in Rome at an honest price.
Right off the bat, my first suggestion is to consider shunning the big hotels in favor of "going local" by renting an apartment in Rome. This is especially true if you're planning to be in town for more than just 3-4 days. (And honestly, why wouldn't you stay at least that long?)
Staying in an apartment will really show you a different side of Roman life. And it might even introduce you to an area or a neighborhood that you wouldn't have discovered otherwise. I mean, no matter where you stay, you're going to see the Pantheon, the Spanish Steps, Trevi's Fountain, etc, right? So then why not claim your own little corner of the Eternal City and get intimately acquainted?
Renting an Apartment in Rome
Many folks are attracted to the idea of renting an apartment in Rome, but are put off by the task of searching for one. They feel "safer" going to one of the big websites that work with all the familiar hotel chains and larger properties.
I totally understand that feeling, but it doesn't have to be that way.
Two friends of mine—Steven and Linda, a married couple from the U.S.—started a company called "Cross Pollinate" back in 2000. They've done a lot of legwork in the years since, checking out unique apartments all across the city, and making them available for rent via their website. And they only work with places they feel that they can truly recommend. In other words, they've screened the places so that you don't have to.
Their site has an easy to use search engine, as well as an interactive map. You can filter your search by price, features, and travel dates, or use the map to search by geographic area.
I highly recommend that you begin and end your search on the Cross Pollinate site. I promise you won't go wrong, and you can save all that time online to plan some great day trips from temporary "home" in Rome.
And if you're traveling around Italy (or Europe, for that matter), check out their options in other cities, too.