So much to see in Rome, so little time.  Even for someone who lives here.  I do my best to discover lesser-known sites and hidden treasures, but it's a herculean task.  Most native Romans never manage to see it all in one lifetime, so what chance do I have?
Well, left to my own devices, I have zero chance.  I guess until recently I've been too stubborn to admit that.  A couple of months ago, friend and fellow blogger Shelley Ruelle (Un' Americana a Roma) sent me an email inviting me to take a tour with the company she works for, Through Eternity.  It had been a while since I've played the tourist in Rome, so I jumped at the chance.  Still, I knew that I didn't need to see the Vatican or the Coliseum…again.  So she suggested the "Love and Death" tour, which was right up my alley.  Instead of just gazing at beautiful sites, this tour strives to weave together stories, bringing history to life.
Our tour guide Luca was energetic and well-informed.  We started on top of the Capitoline Hill, the site of Rome's first scandal: the fratricide of Remus by his dear brother Romulus.  Is the story true?  Was Rome, in fact, named after the victorious brother?  Not really, says Luca, rather it was the other way around: the fictional character of Romulus took his name from the city long after it was established.  One myth crushed, but there would be many more to uncover along the way.
When we reached the bottom of the long staircase, I remarked to Luca what a great vantage point this spot is (see photo below).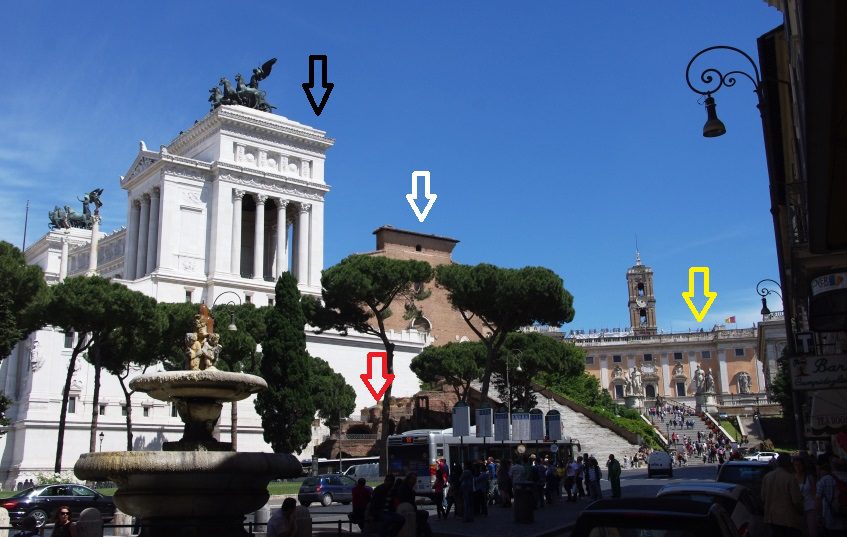 Here you have much of Rome's history displayed in one glance.  The red arrow points to some Roman ruins (partially blocked by Bus #80…sorry), the white arrow points to a medieval church (Santa Maria in Aracoeli, 12th century), the yellow arrow indicates the Renaissance piazza (designed by Michelangelo), and of course the obtrusive white slab of marble (sometimes called "the wedding cake," or "typewriter") is the Monument to Victor Emmanuel II, the first king of a unified Italy, completed in 1925.  Quite an eyeful, huh?
2,700 years of Scandals
At Largo Argentina we listened to the story of Caesar's assassination, which occurred on this exact spot:
Now in this case, I had thought the story was a myth—but no, Luca assured me that the best sources confirm the location.  The blood was quickly washed away, but the memory of Caesar's death lingered for a long time.  Indeed, the chamber where he was murdered was immediately sealed off by his nephew Octavian (Emperor Augustus), and for the duration of the Empire, the Senate was forbidden to convene on March 15th.
The Borgias provided much fodder for scandal in their day.  It seems that the patriarch Rodrigo Borgia (Pope Alexander VI) fathered more children than any man in Rome during his papacy.  And of course there were rumors of incest in the family, with the beautiful Lucrezia having been accused of improper relations with both her father and brother Cesare.
But the tale that really made my skin crawl was that of Giulia Agrippina.  Apparently Giulia and her son Nero (yes, THAT Nero) didn't always see eye to eye when it came to ruling the Empire.  So when his mother planned a sea voyage, Nero designed a ship that would fall apart midway through her crossing.  Which it did, perfectly as planned.  But Agrippina was a tough old broad and she swam to shore, barely surviving the attempt on her life.  Nero, now getting very nervous, sent a trained assassin to kill her once and for all.  Her last words, shouted just as the assassin was about to strike, were "If you're going to kill me, then stab me in the womb!" A poetic end for a woman that had given birth to such a monstrous a child as Nero.
If you're a tourist in Rome and enjoy such stories, which blend history and narrative, told to you at the actual places that they occurred, check out Love and Death in Rome for delicious, gossipy introduction to more than 2,700 years of scandals.
Saving Rome's Artisans and Historic Shops
But the same scene can tell many stories in Rome.  The next day I took another walking tour— through essentially the same area—with a group of locals who are trying to preserve some of the historic shops (botteghe) and artisan studios in Rome's historical neighborhoods.  The name of the group is Botteghiamo.  On this particular day, we were wandering through the streets of the "Rione Ponte," the area defined by Piazza Navona on one side, the river to the west, and stopping at the Sant'Angelo Bridge (hence the name "Ponte" or bridge).  So it was really interesting to do these two tours back to back, and appreciate just how many different and diverse stories Rome has to tell.
We met up at Bar della Pace, which has been fighting for survival for a while now.  The owners of the building want to replace the historical café with a(nother) fancy hotel.  Yuck!  If you happen to be in the area of Piazza Navona, please stop by to sign the petition to fight this project (Via della Pace, 3).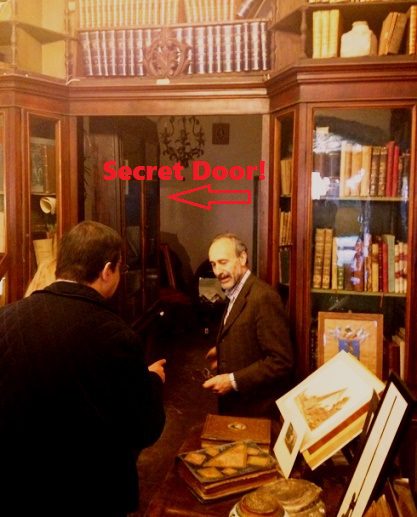 This was a good starting point for the tour, because it's representative of the struggle to preserve these historical locations in the center of Rome where prime real estate sites are ripe for exploitation. In some cases, they're fighting to preserve the shops themselves, while in other instances, it's the artisan crafts that are finding it hard to survive in the increasingly modernized Rome.
Our first stop was an old bookstore, which was once a tailor specializing in garments for the clergy.  A secret door behind a bookshelf that opened up to a surprisingly large space.  (I wonder what those priests were doing back there.)  But the bookshop has been there for a while now, and in fact it's as much of a book museum as a store.  Worth a look if you're in the area (Antica Libreria Cascianelli, Largo Fabo, 15)
Later we stopped at a barbiere, and had a nice long chat with the barber while his poor customer sat there dumbfounded as strangers critiqued his hairstyle with brutal righteousness.  He was quite a sport about it, as the barber had some interesting history to tell us, waving his scissors around the face of the (soon-to-be EX) client in a typical Italian hand-gesturing way.  (Luigi Sasso, Via dei Coronari, 209)
Once upon a time, the barber not only cut hair, but was also the "pronto soccorso" (emergency room) of the day.  Before seeing a real doctor, the neighborhood residents would bring their headaches, toothaches, and bloody stumps to the local haircutter for a quick diagnosis and homeopathic cure.  "Indigestion, huh?  I believe you need a hot lather and a shave!"  (I suppose when you're holding a hammer, every problem looks like a nail.)
Our relaxing stroll wound through narrow alleys and opened up into grand piazzas.  We visited a shop where young restorers are resuscitating antique furniture, paintings, and sculptures.  We popped in on a woman making custom jewelry (Officine Cellini, Vicolo del Curato, 14), and mosaic artists keeping alive a dying art (Via di Panico, 75).  The day finished with gelato.  Honestly, I'm not sure that the gelato shop had anything to do with the theme of the tour, but their pistachio was top-notch (Gelateria del Teatro, Via di San Simone, 70).
I've joked around a bit because this tour was in Italian, and by the end of the three hours, the translating muscles in my brain were spent and I started to lose the thread of the dialogue.  But they also offer them in English and I highly recommend them.  It's a way to see some real Italians in action; passionate about their work and the historic neighborhoods they live in.  Go out and support them instead of buying that silly kitchen apron with David's private parts on the front.
And if you need a haircut, I believe our barber friend now has an opening every Tuesday at 11:00 a.m.  It seems one of his regular customers has looked elsewhere for his coiffing needs.