If asked to describe your ideal scene of bucolic Italian bliss, what would it include?  How about undulant verdant hills in dreamy soft-focus, banded with rows of grapevines?  Cyprus trees lining a meandering road that vanishes into the distant horizon?  A rustic dinner table in the open air, abundant with the freshest ingredients that have been coaxed into culinary perfection by local chefs?  And the passionate conversation that flows like vino.  If this description pretty much hits the mark, then you'll have a very accurate picture of where we were staying last week.  Did I mention the award-winning organic olive oil produced on site?   Seasonal vegetables and herbs from the garden?  Homemade organic honey?  Sorry, I'll stop there for now…wouldn't want to make you too jealous.
The name given to this little preview of nirvana is Il Fontanaro, and it's a unique organic farm in Umbria (agriturismo) perfectly situated on the outskirts of Paciano, near the border of Tuscany and Umbria.  The property spreads across 40 lush acres with 2,500 olive trees and a small vineyard of old Sangiovese grapes.  There are no museums around, but the view itself is all the artwork that you'll need to gaze upon: a canvas in Earth tones and blue that local Renaissance master Perugino (who died only 5 miles from here) would have been unable to surpass.
While the immediate environs are remote and peaceful, if you have a car, exploring medieval hill towns, Etruscan sites, and the bigger historic cities are all within easy reach.  We took two day-trips while staying at Il Fontanaro; one to Cortona, and one to Montepulciano. 
In Montepulciano, we toured the most remarkable wine cellar that I've even seen. The winery is called Cantine Redi, and for visual impact, it has no equal.  Just a few steps from the main square, Piazza Grande, you'll find the entrance to the majestic Palazzo Ricci; a hulking Renaissance palace built in the late 1400s. Follow the signs to the equestrian staircase that gradually leads down…down….and down to the basement—or more like dungeon—where the giant barrels of wine are stored. Don't let this imposing sight distract you from the Etruscan well, which is also present in the cellar.
The wine is great, too, and I picked up a bottle of their Vino Nobile to go with our tagliatelle al ragú back at Il Fontanaro later that night.
Il Dolce Far Niente
So if you don't have a car or are reluctant to drive, what does one "do" in the middle of the Umbrian countryside?  Well, that's the good news.  At Il Fontanaro, there are many options to choose from, including the option of "il dolce far niente," the sweetness of doing nothing.  Some of us Americans (myself included) could use a dose of that.  Our European vacations are too often reduced to a checklist of famous sites and important museums.  Nothing wrong with those places…I love them, too.  But if we don't slow down once in a while and enjoy some country living, then we risk being more tired at the end of our vacation instead of feeling rejuvenated.  Besides, if you only see the major tourist cities, then you've only seen one side of Italy—and perhaps not its best side.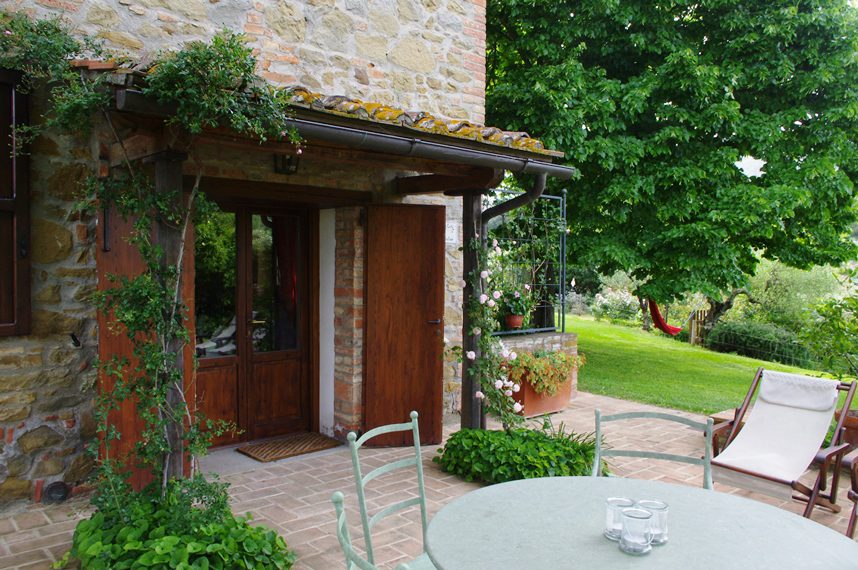 Il Fontanaro is owned and operated by the mother and daughter duo of Lucia and Alina.  The two seem to be always bickering, especially in the kitchen where egos don't easily surrender.  But if you watch carefully, you'll notice that there's always a little smirk at the corner of the mouth.  The quarreling is good-natured—a way to say that, while firm in their own ways, the other's opinion is always respected.  They have found a balance that ultimately complements one another for the benefit of their guests.
But OK, you can't just eat, drink, and stare at the scenery ALL day.  Well, you can (I did), but don't worry, there's other things to occupy your time in slow, relaxing way.  For example, Lucia can give you a lesson in making fresh pasta—it's not as difficult as you might think, and then you get to enjoy the fruits of your labors.  Hey, if I can do it, anybody can!
Alina is a certified sommelier and she's passionate about her wine collection.  Let her show you their cellar and perhaps you can arrange a tasting of local vintages.  Then there's the library, which contains an eclectic assortment of books on travel, wine, food, and fiction.  So when you're finally ready to really slow down, grab one of those books, a glass of Alina's wine, and head to the pool, Jacuzzi, or hammock.  Now you're on vacation, and that checklist that you were so determined to complete is a distant memory.
My Cooking Class with Alina
What I enjoyed about my cooking class at Il Fontanaro is that you get a real sense of where your food comes from.  This is a working farm and you'll actually see their olive trees, grapevines, and vegetable gardens on the property.  During our stay, my wife and daughter picked fresh strawberries for our dessert.  These days, it's too easy to believe that all of our food just magically appears at the grocery store (or worse, in a can or at a fast food restaurant).  It's nice to see the entire process, from field to table—literally.
The enthusiasm in Alina's kitchen is infectious.  She speaks about her farm and her favorite recipes with affection, as if they're part of her family.  Which, in a way, I suppose they are.  Food traditions are important because they connect us to the land and help define our history.  Keeping the traditions alive is a way to locate our identity on the map and celebrate the gifts of our local terra.  In doing so, we honor those who came before us and believed in these same values and dreams, keeping their memory alive as their spirits celebrate with us.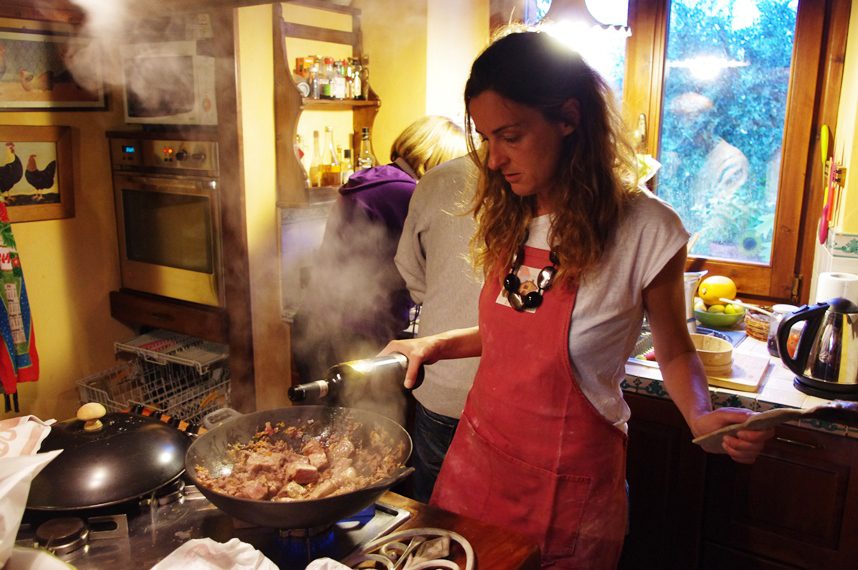 Alina's olive oil is the starting point for most of her recipes.  She's justifiably proud that it won the Silver Medal for "Northern Hemisphere Organic Blend" given by the New York International Olive Oil Competition.
For guidance in producing her oil, she employs only the simple advice of Marco Porcio Catone, who wrote a book in the 2nd century B.C., proclaiming that the best oil is made from olives that are picked just before they ripen on the tree, and then pressed immediately.  This preserves all the flavor, leaving a spicy, peppery aftertaste on the palate.  If you can detect that, and not just a slimy residue, then you know that the oil is of the highest quality, Alina says.
An Organic Farm in Umbria
It's often hard for us to slow down in this fast-paced, hyper-connected world.  Sometimes we get so caught up in our lives that we forget to take the time to really live.  Il Fontanaro is the ideal place to get back in touch with all of that: food, friends, conversation…the good stuff that makes all the other toil worthwhile.
If you've never been to Italy, then I can hardly fault you for wanting to see Venice, Florence, and Rome.  But if it's your second trip, or if you can add some days (hopefully a week) onto your jam-packed itinerary, then make it a deeper, more meaningful encounter with Italy and the Italians.  Take the time to slow down and appreciate the more subtle charms of this alluring country.  And you'll actually return from your vacation relaxed and satisfied.