While traveling through Northern Italy last month with some fellow bloggers, one of the unexpected discoveries of the trip was the diversity of family destinations that we encountered. I guess my eye is biased these days, always on the lookout for things to amuse my easily bored principessa. Obviously, many of the fun places that I visited on the blog tours would be enjoyable for adults, too. But this list is offered with the bambini in mind.
Gardaland. OK, I grew up in Orlando, Florida, the Mecca of amusement parks, so I have a real love/hate relationship with these types of places. And honestly, before my daughter came along, visiting an amusement park in Italy seemed to me like ordering a cannolo in the United States: it vaguely resembles the real thing, but upon closer inspection, it inevitably disappoints.
To my great surprise, Gardaland was a lot of fun! I'm not totally familiar with all the cartoon characters running amok (who is this Prezzemolo guy?)—and certainly the degree of creating illusions is not on par with Disney World.  But it's more relaxed, and just clean, family entertainment. The rides are great—I went on a couple of rollercoasters and a water ride (I was in the "lucky" seat, and got completely soaked).
If you're traveling in Northern Italy with kids, you'd be crazy to pass this up.  After a week of looking at Roman ruins and Renaissance art, the little ones will be grateful for some silly time.  My cucciola is still too young, but I hope to take her to Gardaland in a few years.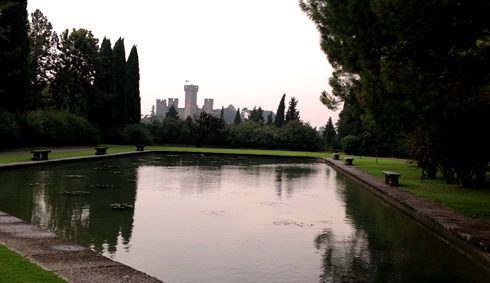 To slow it down a bit, but still fun for the kids, Parco Giardino Sigurtà provides a quiet, relaxing day outside in the fresh air. This is one of the top gardens in all of Europe.
And it's huge. So huge, in fact, they have one of those little trains that takes you all around the park for a nice overview. Then you can get off and explore the more interesting areas on your own. The kids will love getting lost in the labyrinth, and visiting the animals in the farm.
There's a castle, water fountains, and bushes carved into surreal forms. And maybe best of all, lots of open green spaces for them to run around without a museum employee "shushing" them or telling them "NON toccare!"
Northern Italy with Kids
For the older kids, they might enjoy Museo Nicolis, which is a wonderland of cars, motorbikes, and bicycles, which tell the story of how transportation has evolved over the last two centuries. There are other items, too, which to the iPad generation must seem like ancient history: cameras that actually used film, typewriters that required physical strength, musical instruments that you didn't plug into a power source, jukeboxes with vinyl records, mechanical puppet shows, and other antiquities from the golden era of modern mechanics. Really interesting for adults and kids over the age of 11 or 12, but probably boring for the 10 and under crowd.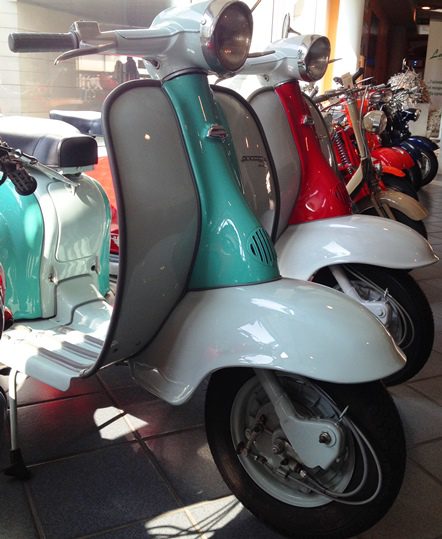 Boat rides are a real crowd-pleaser, no matter the age.  In Pescheria del Garda, we took a tour around a castle in a small boat. It was a sunny day, and the air was just a bit cool on the lake. This was just after a wonderful lunch with plenty of wine. No, I didn't fall asleep, in case you're wondering. But thought did cross my mind.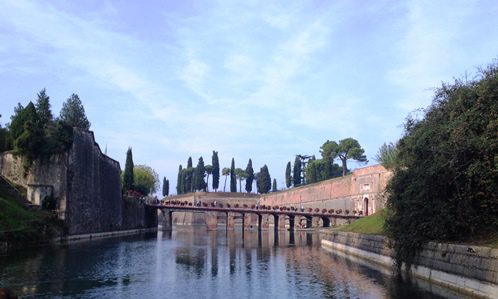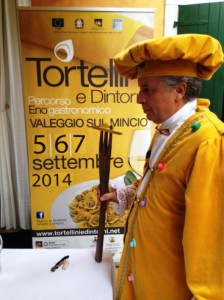 How about a cooking class? The little rugrats can get their hands in the dough and learn how to make tortellini from the "King of Tortellini" at Pastificio Re del Tortellino in Valeggio sul Mincio.
All kids love animals, zoos, and such. In Cattolica, they have the second largest aquarium in Italy (after the one in Genoa). Well, it's not "just" an aquarium, as in one big single tank full of fish.  Rather, it's an entire complex right on the oc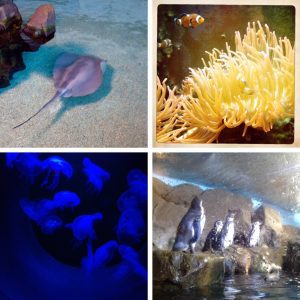 ean where they have a penguin exhibit, otters, sting rays that you can touch, and yes, lots and lots of fish.
They also have a great seafood restaurant inside the park—even if I felt a little guilty about eating the fish right after I had just been admiring them swimming around in their tanks.
Since we're on the coast now, and if you're Italy during the summer months, the many beach clubs that occupy the prime real estate on the Adriatic are a perfect place to take the kids for a day.  There are many, so pick one that looks "kid friendly." These are hard to miss, with all manner of playgrounds, trampolines, basketball courts, and little rides for the children.  I don't have a specific recommendation for a particular beach club, but for location I'm very partial to the lovely town of Cesenatico. Where I might suggest Rimini or Riccione for adults looking for summer night life on the beach, Cesenatico would be my pick for families.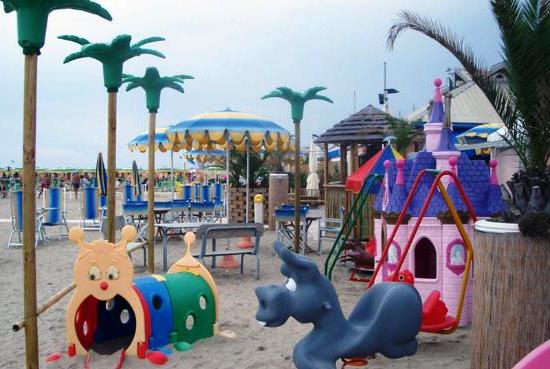 Another curiosity in this area is the "Italy in Miniature" theme park, and yes, it's exactly what you're probably imagining. All of the famous monuments of Italy are recreated in miniature, and you can walk around them like a giant and take some creative photos.  I haven't been here yet, but I'm sure I'll be taking my little one here eventually. For her, the small dimensions might seem just about right.
Of course, I'd like to offer some suggestions for family fun in Rome, but that will have to be a separate post. For now, suffice to say that there's plenty to do in Northern Italy with kids. As I have recently found, you only have to change the way you look at things. Without even realizing it, my daughter has shown me that there's more to enjoy besides museums and enoteche. And I'm enjoying these new discoveries just as much.