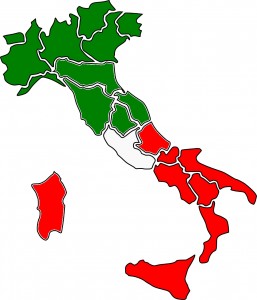 You hear about the North versus South issues in Italy all the time, but honestly, I often have a hard time believing the hype. I've spent time in Milan and Venice, as well as Naples and Sicily. Sure, I see the differences–sometimes quite significant differences. But much more obvious to a foreigner are the similarities.
Then just when I've nearly convinced myself that Italy is a unified country after all, some cafone with a misplaced sense of campanilismo will leave a comment on my blog that makes me wonder if I'm just fooling myself.
The South is "Below" Wherever you're from
For example, below is an excerpt from a long-winded rant in response to an old article about my experience at a doctor's office in Rome. (And yes, he actually wrote the entire tirade in capital letters, the written equivalent of shouting.)
Honestly, I believe his intention was to attack me and the American healthcare system—which would have been fine. But the proud Milanese just couldn't resist distancing himself from the "Southerners" (in other words, Romans).
MMM I READ THIS ARTICLE AND I AM FROM NORTHERN ITALY. I IMMIDIATELY UNDERSTOOD THAT IS ARTICLE IS TALKING ABOUT SOUTHERN ITALY NOT NORTHERN ITALY
IF YOUR EXPERIENCE IS IN TRASTEVERE YOU SHOULDN'T WRITE AN ARTICLE BY TALKING ABOUT THE HEALTH CARE OF ITALY BUT ABOUT THE HEALTH CARE OF ROME
LIKE IF I HAD A BAD EXPERIENCE WITH THE HEALTH CARE IN ALABAMA AND I WROTE AN ARTICLE BY TALKING ABOUT HOW BAD IS THE AMERICAN HEALTH CARE.
TRY TO GO IN MILAN, TURIN, BOLZAN, BRIANZA, GENOVA AND COMPARE OUR HOSPITAL WITH THE ONE IN AMERICA FROM ALABAMA, MISSISIPI, GEORGIA, MICHIGAN, KENTUCKY.
BYE FROM MILAN
So what should I conclude from this rant, other than he failed US geography in school? (He seems to believe that Michigan is among the Southern United States.)
Well, for one thing, I've learned that for this type of person, "South" is always relative to where you're from. For our friend here from Milan, Rome is part of the South. At the same time, I've received comments from Romans who insist that Rome is neither North nor South, but part of Central Italy. (I think Romans are the only ones who recognize this middle land).
I've heard Southerners complain about the politicians in the North (yes, Rome) who only want to exploit the South, and keep all the government money in their own pockets instead of repairing the roads and trains in Calabria or Sicily.
On the same article about my doctor's visit in Rome, another "patriot" defends his country's healthcare system, but not before placing a caveat which excludes his fellow countrymen to the South, the so-called terroni. (At least his was considerate enough to forgo the "caps lock" while voicing his ethnic prejudices.)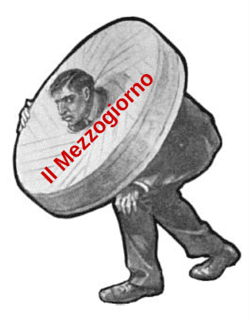 "The only negative part is that southern part of Italy. Terronia, starting from where you live [Rome], is a millstone round our necks so people go to north to be [seen by a good doctor]."
So for him, another one from Milan, the South is just a big burden on the rest of the country, "a millstone around their necks," as he so eloquently phrased it.
Which is interesting, because I heard those same comments about the Milanesi when I was in Ticino, the Italian-speaking region of Switzerland, this summer. A Swiss friend of mine referred to Milan as "disgusting," and Milan's Malpensa airport as "the third world." I won't repeat what he said about the Milanesi themselves.
He's not alone. Last year, motivated by the droves of Northern Italians trying to relocate across the border, Swiss citizens passed some tough immigration laws in an effort to strongly limit the number of Italians living and working in their country.
Ironically (or not), the initiative found its strongest support in Ticino, the Italian-speaking zone, where 70% voted in favor of it—in other words, they voted in favor of keeping the Italians out.  For the Swiss living near the Italian border, the Milanese are really just a "millstone around their necks."
Yes, it's all a matter of perspective. The South is anywhere "below" where you are standing, apparently.
Responding to a Crisis
Fortunately, as I wrote in my response to the ethnic slurs left in the comment section of my blog, at least I find some comfort in knowing that the cafoni are the obnoxious minority.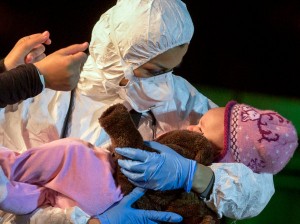 A much more accurate picture of the Italian character can be witnessed within the current refugee crisis in Sicily. Yesterday, 900 migrants from North Africa were lost in the Mediterranean Sea. The situation is getting worse, and the Italians are standing up to take action while the rest of Europe appears to be ignoring the situation. According to The New York Times:
"Italy has been at the forefront of coping with the surge in refugees and has been increasingly insistent that the rest of Europe do more to help. A widely praised Italian-led search-and-rescue program was phased out last fall and replaced by a smaller European-led operation."
Martin Schulz, the president of the European Parliament, expressed dismay at what he characterized as European apathy over the migration crisis. "How many more people will have to drown until we finally act in Europe?" he asked in a statement. "How many times more do we want to express our dismay, only to then move on to our daily routine?"
Well, based on my observations, Italians appear to spurn routines in general. In fact, it's often hard to define routines and schedules in Italy. The frequent scioperi disrupt the work week, a long list of holidays revolving around saints and historic events provide countless ponti (long weekends), and shop hours are erratic and unpredictable (e.g. il giorno di riposo).
Yes, Italians dislike the mundane and predictable. But when there's an acute crisis, watch them band together and spring into action. Hopefully the rest of Europe will soon follow their lead in the Mediterranean.
North versus South in Italy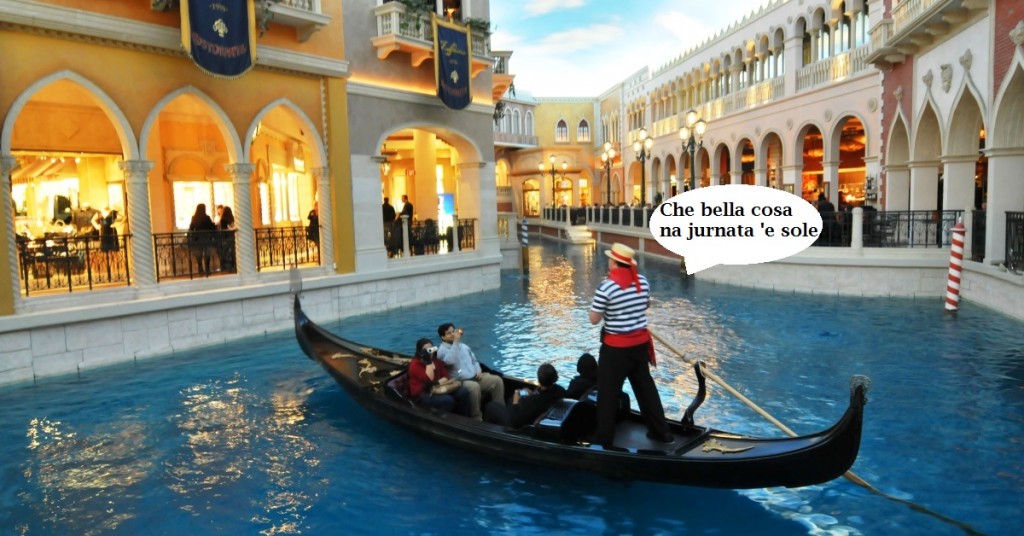 Italy is not a homogenous country by any stretch, and that's one of the big reasons that it's so appealing to expats and tourists alike. Diversity is a good thing!
That said, it's only for our "benefit" that you'll hear a gondoliere in Venice singing "O' Sole Mio," or find Saltimbocca alla Romana on a menu in Milan. If only Italy could find a way to embrace the differences without watering down the culture for the expectations of tourists. Speaking as an American, we get plenty of homogeneity back home. We come to Italy (partly) to explore the many, many diverse sites, tastes, sounds, and experiences in this cultural and historical wonderland. If we want a healthy dose of kitsch, we have Las Vegas.
L'Italia è COSÌ
This post is brought to you by a collective effort from our blogger group known as COSÌ. For your ease and comfort, we've added a COSÌ Facebook Page so that you can access all of our articles in one location. Coming soon will be a video compilation of our insider suggestions for touring Italy. We've also started a movement to create a sindacato (labor union) to stand up for the rights of English-speaking bloggers all across Italy. (Not really. I suggested the idea to the group, but for some reason it was shot down.)
Surviving in Italy: Northern Italians Versus Southern Italians. Are They Really That Different?
Girl in Florence: North vs. the South | A United Italy
So please check out the posts from fellow trouble-makers in the Italian blogosphere. And leave a comment below…IF you're not a cafoni with your keyboard permanently set to "caps lock."