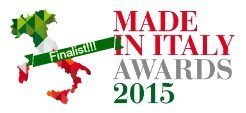 Last week I was thrilled to learn that I made the list of the Top Five Finalists for the Made in Italy Awards. The category is Media, subcategory "Blogger." Furthermore, I'm honored to be joined by two friends and fellow Italy bloggers, Eleonora Baldwin from Aglio, Olio, e Peperoncino; and Alexandra Korey from ArtTrav. (I'll provide links to their excellent websites at the bottom of this post.)
There are two other finalists in our category, and although I don't know them personally, their websites sure are slick. Best of luck to everyone who has been nominated! And just to be fair to the other finalists, I'm not going to engage in any shameless self-endorsements to win a few cheap votes. I promise. That huge poster on the side of brownstone in Mid-Town Manhattan was not my idea. Nor was the billboard next to Uscita 12 on the G.R.A. in Rome.
Anyway, there's a lot of build up right now as they have been promoting the event online, which will culminate with a live Gala Ceremony in New York City during Fashion Week in September. If you go to their website and vote, you'll be entered to win a trip for two to attend the events. Looking at photos from past events, it promises to be a grand celebration. (Maybe we'll get to meet Maria Grazia Cucinotta!)
So what's this all about? Why such as a big push to promote the "Made in Italy" brand? Everybody already knows that "Made in Italy" is synonymous with top quality, right? Not just top quality, but the very epitome of perfecting one's craft through dedication, precision, and the adherence to tradition.
Right. Perhaps we envision a fussy artisan, hunkered down is his cramped workshop, spending an entire day to produce one shoe. Or a dark, musty cave where rows of prosciutti hang from the rafters until they are perfectly aged and worthy of the label "San Daniele," or such.
Yes, we all know and admire those scenes, and they certainly still exist. But less discussed is, in recent years, there have been attempts to corrupt those icons of Italian quality by unscrupulous businesses (both foreign and domestic) who hijack the label without regards to the centuries of a dedication to a craft that reflects both personal and professional standards of the highest degree. What controls are in place to prevent this sort of deception?
Well, the European Union isn't helping. According to article 24 of the European Customs Code (Reg. EEC 2913/1992), "A product which has been made in two or more countries is considered to originate in the country where the final transformation or substantial work took place."
Pretty vague, no? So if, for example, a shirt is made in China, then brought to Italy to have the buttons sewed on and have a "Made in Italy" label affixed to the collar, then technically it has been "Made in Italy." Hmmm… not what you had in mind when you shelled out 100 Euros for a shirt, I'm assuming.
Fortunately, the people, brands, and organizations involved with this year's Made in Italy Awards are the ones fighting hard to preserve the integrity of the Italian reputation for quality. Beyond the quality, we must also highlight that authenticity accounts for a lot, too.
Made in Italy?
Nothing against the non-Italian chefs, artisans, and craftsmen who are making "Italian-like" products.  Many of them are quite skilled and also produce high-quality goods. But I'm sorry; you just can't make proper Parmigiano Reggiano unless you're from the area around Parma and use only those local ingredients. You can't simply "copy" the cut of an Italian suit and assume that it will look the same as the original.
Listen, I speak good Italian, but anyone born in Italy has me pegged as a foreigner before I finish my first sentence. Why is that, exactly? My accent is decent, and my grammar is often better than theirs. Well, it's because there will always be that certain "something" which you can only possess if you have it in your blood.
And so it is with Italian products. The art is in the details, and those subtleties can't be faked.
Some people want to take this concept even further. Associations in Italy, such as Coldiretti, want to save the image of Made in Italy abroad by even fighting the "Italian sounding" products that they feel are bad for the image. In other words, foreign companies that are using pseudo-Italian names (often completely invented) to improve their products' images. An obvious example is something like the "Spicy Shrimp Scampi Fritta" found on Olive Garden's menu. (Isn't "shrimp scampi" redundant?)
To me, this is little more than a marketing technique, and individual companies have to worry about their own image instead of fretting about foreigners "stealing" their language for purposes of branding. There are brands of women's fashion in the US with Italian sounding names, but nobody ever confuses them with Missoni or Prada, because those two companies have done a great job with name recognition, regardless of the "competition" from imitators.
Perhaps more concerning is that Italy has been selling off some of its most distinctive brands with the full support of Prime Minister, Matteo Renzi. So in this case, even an article that has been entirely produced abroad could display the "Made in Italy" label, if it has been commissioned by a firm that is based in Italy. Renzi has attempted to place one important condition on these sales, however. He wants the jobs to stay in Italy.
"For me there's no difference between an Italian and a foreign investor, what I care about is the industrial plan," Renzi's industry minister, Federica Guidi, said in an interview with Bloomberg Business. "A fair market without barriers means the best guys can come in. I'm in favor of that."
The article goes on to say:
"That approach has brought global investors to Italy's door, with deals targeting companies in the country surging more than 300 percent this year to $30.9 billion, according to data compiled by Bloomberg. That's more than any other country in the euro region and compares with a 9.2 percent gain in Europe as a whole. Foreign companies spent a record $17.1 billion in 2014 buying companies based in Italy, according to Bloomberg data."
So is this good news or bad news for the "Made in Italy" brand?  I've heard both sides of the argument. People are quick to complain that Italy is stuck in the past, refusing to join the increasingly global economy. Then in the next breath they lament the fact that FIAT merged with the American Chrysler Corporation, and is now a Netherlands-based holding company with its global headquarters in London. If that isn't moving into the world economy, I don't know what it is.
But in the end, it's still the quality and originality that matters the most for any brand that aligns itself with the Made in Italy label. And that's what the Made in Italy Awards are all about. They are striving to recognize these efforts, which are becoming more difficult to sustain in a globally competitive economy. For the brands that made it to the list of finalists, their fidelity to quality and authenticity is given top priority. Indeed, it is the very reason for their continued success.
Please help support this cause by casting your vote. The ballot is set up such that you must cast a vote in every category, no skipping around. When you come to the media/blogger section, you'll have a tough decision to make.
If you're an art lover, vote for Alexandra Korey (ArtTrav). If you're a foodie, vote for Eleonora Baldwin (Aglio, Olio, e Peperoncino). BUT, if you just can't wait for another article about the bidet or similar bathroom humor, then vote for me! Grazie in ogni caso!