This post carries the sole intention of expressing a very sincere thank you to everyone who supported me in the Italy Magazine Blogger Awards.  I'm proud to announce that, improbably, I won.
A few weeks ago, my blog was selected for the "Top-5 Shortlist" among 54 well-deserving nominees; all of which represent extremely knowledgeable and talented English language writers in Italy.  This alone was an incredible honor and truly, I would have been happy with just that.  The fact that I actually won is beyond my expectations.
Seriously, this is a HUGE deal for me.  For those who don't know my story, several years ago I left a secure career in the US to find out what else life had to offer besides security.  Not coincidentally, I came to Italy to look for those answers—because, well, Italy offers just about everything except security (and maybe that's one of the things that appealed to me in some masochistic way).  Rather, as I wrote in a recent post, "Italy offers an abundance of the things that touch our humanity at the deepest levels: art, food, music, beauty, family, and a tangible connection with human history."  (How pretentious of me to quote myself!  See what a little success can do to a person?)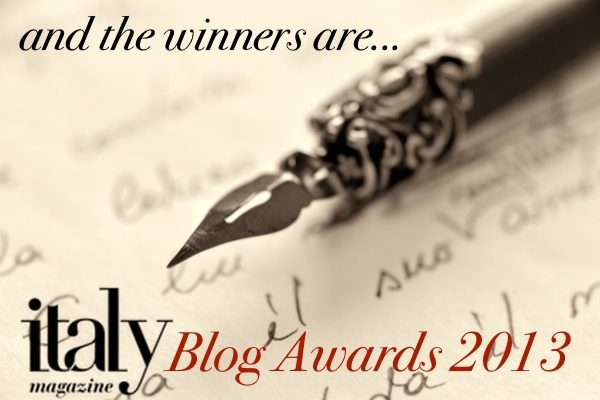 As cliché as it sounds, moving to a foreign country is not unlike being reborn.  You must start all over again, beginning with the language, and then from there you must unlearn/relearn all of your "absolutes" and cultural reference points.  The blog has been my effort to chronicle that journey and in doing so, digest the impact it has had on my outlook on life.  I know that I have offended a few people and made some errors along the way.  But by exposing my mistakes publicly on my blog, I hold myself accountable for learning from them.
Beyond all of that introspection is quite simply a true and sincere love for Italian culture.  I never grow tired of discovering another little corner of the postcard-ready landscape, another artistic treasure in the most remote location, or those idiosyncratic social norms that constantly make me scratch my head in disbelief.  They touch me just as profoundly today as they did when I first visited Italy on a vacation 14 years ago.
The writers and editors at Italy Magazine know all of this very well, and do an incredible job of presenting a complete and balanced portrait of this culturally rich country.  Indeed, in Italy the challenge is not in finding interesting things to talk about, but rather performing the impossible task of deciding which topics are the most interesting and presenting them in fresh ways.  Italy Magazine does this better than any other publication, online or in print, and I'm humbly honored to be associated with them.
Complimenti a tutti voi!
I would like to also mention the following friends' blogs who were also on the short list in various categories.  These aren't all the nominees, just the ones that I'm personally in contact with on a regular basis.  Congratulations to you all!
Margie in Italy  Margie is an inspiration to anyone who is passionate about Italy and Italian culture.  To me personally, she has been beyond generous with her support and with her friendship, and she has introduced me to many other Italo-philes in the blogosphere.  Her blog chronicles her travels through Italy, which led to her first book first book, "Memoirs of a Solo Traveler – My Love Affair with Italy," which is based on her blog.  She's working on a second book, "My Love Affair with Sicily," which will be available later this year.
Capturing La Vita  Laurel is a fellow Floridian and part time Tuscan whose blog is full of her travel adventures in Italy (often with bambini on board) and her amazing photography, as well as some hard journalism.  She is currently writing a book on the Costa Concordia tragedy, which she is personally researching on-site on the island of Giglio.
Surviving in Italy  Misty's blog is a hilarious combination of her useful insights and sharp wit.  She pulls no punches—if there's a filter in place, I haven't detected it.  Read at your own risk.  Her blog won the award for Best Living in Italy Single Post.  Congrats, Misty!  Keep writing and don't let ever let anyone try to edit you!
Over a Tuscan Stove  Judy is one of the writers who generously contributed to my restaurant guide and is THE English-speaking authority on Tuscan cuisine.  If you're travelling in the Chianti area, make sure to download her iPhone app.  Better yet, look her up for a food tour or cooking class!
Timeless Italy  Susan's blog is the place to go if you're an art and art history lover.  Honestly, I don't know how she produces so much rich content week after week.  She has the knowledge of a professor but the voice of a patient tour guide as she introduces you to Italy's many artistic treasures.
Diario of a Studentessa Matta  Melissa's blog is all about the language.  Incredibly, her posts are written in both English and Italian—something I could never do.   And if you want to really understand Italy, then you must know at least a little about what Byron called, "that soft bastard Latin, which melts like kisses from a female mouth."
Adventures of a Carry-on  Penny's blog is a diverse sampling of everything beautiful about Italy, from art and architecture, to food and fashion.  She's a talented photographer and a professional make-up artist, as well.  As a side note, her blog design inspired me to update my own blog about six months ago, and I'm quite sure it has made a difference in expanding my audience.
Bella Bagni di Lucca  Debra writes a couple blogs, but this one won the award for Best Single Italy Travel Blog Post, and deservingly so.  If you're charmed by the life in small town Italy, then check out her delightful collection of villages in the Serchio Valley.
Grazie ancora
OK, I just don't think that I could end this post without one more GRAZIE to everyone who voted for me and shared my blog with their friends and contacts.  Really, it means a great deal to me.  And a special thanks to Italy Magazine for providing a venue for all the diverse voices out there who share their passion for this beautiful, crazy, alluring, puzzling, wonderful country.   Ciao!