Recently I wrote an article for Expats Blog highlighting some of the Italian food rules that visitors to Italy might not be aware of.  Of course, it's a satire that mostly makes fun of us "stranieri" who constantly facciamo una brutta figura (make a poor figure) when it comes to enjoying the Italian food that we claim to adore so much.
But just two sentences into this post and I've already committed a cardinal sin: I used the term "Italian food," which any Italian will tell you doesn't exist.  Or it exists, but only outside of Italy.  Within Italy, it's more accurate to speak about regional cuisines.  For example, you'd never find "fegato alla veneziana" in Naples; nor would you find "braciole di pesce spada" in Turin.  And of course, you won't find Chicken Parmesan or Fettuccine Alfredo anywhere in Italy.  These are the ill-conceived concoctions served up at Italian restaurants in the US and UK which repeatedly baffle and amaze (and insult) Italians travelling abroad.  When they see these travesties on a menu, the colorful phrase, "Ma che cazzo è questo?!?" (What the F#*% is this?!?) can be heard echoing throughout the dining room.
Eat Like an Italian
This list could have only been compiled by a foreigner.  If you were to ask an Italian about any so-called "rules," he or she would probably claim ignorance.  They may not even be consciously aware of them since they're so ingrained into the cultural mentality.  But believe me, they're out there and you should know about them if you want to fully understand the Italian approach to the enjoyment of meals.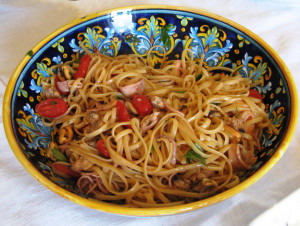 My article identifies five of these rules, but really this just scratches the surface.  In any case, the rules aren't so precisely defined—there's plenty of overlap among them and variations from region to region.  Furthermore, these guidelines should be absorbed rather than memorized outright.  You have to nurture the innate instincts of our Italian friends who can tell if they're willing to eat something and how much they'll enjoy it with a single momentary glance.
No, you can't eat eggs for breakfast.  No, you can't put sauces on fish.  Yes, drinking a cappuccino with your lasagna is a very bad idea.  And so on.  But the main point is that the discussion goes beyond a set of definable rules; there is a genuine passion for food that supersedes all other criteria.
What Dreams Are Made Of
One Saturday afternoon just after I had arrived in Rome I went to an open market in Piazza Sempione where there was an artisan cheese maker selling his products under a little white tent.  I walked up as he was carefully setting out his display and arranging everything just so.  At the center of the long table he had placed a strange type of cheese in a position of prominence,  clearly distinguishing it from the rest.  Being a curious straniero, I just had to ask.  "Mi scusi, che tipo di formaggio è questo?"
He suddenly stopped his frantic preparations, froze for a second, and then looked me squarely in the eye.  "Signore."  A pause for dramatic effect then, "Questo NON È un formaggio—è un SOGNO!"  (Sir, this is NOT a cheese—it's a DREAM!)
Then he went on to enthusiastically explain to me how the milk used for this particular cheese is collected from the stomach of a young lamb who has just nursed from its mother (he didn't tell me how it was "collected" and I didn't ask for elaboration).  Apparently the delicate enzymes in the stomach of the baby lamb  are what ferment this cheese and transform it from a mere dairy product into the thing that dreams are made of.
Then he offered me a small sample and I could hardly disagree—it was the best cheese I had ever tasted.  I immediately bought 300 grams and paid him an enormous price which was still a bargain for such a transcendent culinary experience.  I would have gladly paid twice as much.
Italian Food Rules
This scene is by no means rare and only goes to underscore the importance of food in daily life in Italy.  People are passionate about the food they make and the food they eat.  Follow the rules and you'll be fine; follow the passion and you'll appreciate it that much more. Here are a few examples to get us started:
Keep it simple. Any given dish—no matter if it's a snack, main course, or dessert—should contain no more than three or four ingredients, and they should all be individually visible. This rule explains a lot about Italian cuisine and it relates both to the taste and the visual presentation. Notice that every course and every side dish is served on a separate plate. There is a good reason for this: Italians want to distinctly see and taste everything that they're eating. This is why it's almost impossible to find a Mexican restaurant in Italy, even in a big city like Rome. Italians despise things to be all mixed together, rolled up, and covered in a salsa. Let the ingredients speak for themselves! If you've covered it up with a lot of nonsense, then you've obviously got something to hide, which is no good.
NO Parmesan cheese with seafood. In fact, watch the parmesan in general. It has a specific role in Italian cuisine and you can't just indiscriminately throw it on anything that you please. You just can't. And treating fish or other seafood in this way is particularly offensive. Why order a beautiful piece of delicate fresh fish if you're just going to mask the flavor with a strong cheese? If you really like the cheese that much, then just order cheese and leave the fresh fish for people who can appreciate it. Furthermore, no funny sauces or condiments on fish either. Just a little olive oil, some parsley, and maybe a small squeeze of lemon at the most. Pour that cheese sauce over some French food and keep it away from my pesce! Basta!
Only Water or Wine with your meal. For adults, these two beverages are the only civilized options to accompany your lunch or dinner. Maybe a beer if you're just having a pizza or panino, but that would be the only exception. A Coke can be enjoyed on its own in the middle of the day or as a digestive, but not with a meal. Unless you're 12 years old—and even then.
You can learn much more about this delicious topic on my food blog, Eat Like an Italian.
Mangia, mangia!