There are several places in Italy that have been on "my list" for a while, but without a doubt, visiting Lake Como holds the top spot.  Maybe the perceived distance has kept me away until now.  Although it's a bit of a trek from Rome, it's super easy to reach from Milan (by train or car) in about an hour.  And since I was in the neighborhood, I thought I'd stop by and see what all the fuss is about.
Whatever anyone has told you about visiting Lake Como, I assure you, they're lying.  Or at least they aren't telling you the whole truth—if only because their lexicon of superlative adjectives is wanting and unimaginative.  Then again, Shakespeare would've been challenged to find sufficient words to describe the surreal quality of this landscape.  One could spend days just hopping from town to town by boat, and gazing hypnotically at the grand villas reflecting off the icy-blue waters.  Which, more or less, is what we've been doing.  An expanded thesaurus would come in handy right about now.
This isn't a destination where you work your way through a checklist of famous monuments, or visit important museums.  This is a place to relax.  And I found just the cozy corner to do precisely that.  It's a little village called Gittana, and it's only five minutes "above" the slightly more famous town of Varenna, offering expansive panoramas of the lake in all its glory.  In my opinion, these smaller hamlets are much more appealing—and better suited for relaxation—than the overcrowded Bellagio or the larger town of Como itself.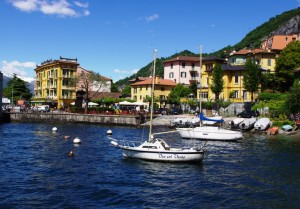 But in fact, even Varenna can get a little packed during high-season (June, July, August).  Several years back, it was touted by Rick Steves as his pick for an off-the-beaten-path location in the Lake Region.  And just like that, what once was undiscovered is now everybody's "secret" hideaway.  Alas.
That's why I chose Gittana.  It's just a quick 5-minute drive to the center of Varenna, so you can still sneak into town during the morning or evening hours, avoiding the swell of day trippers in the middle of the afternoon.  And of course, Bellagio and Menaggio are easily reached by ferry boat from Varenna's port, should you get the urge to mingle with the crowds and search for celebrities.  As we all know, George Clooney frequents these parts. (I tweeted him an invitation for aperitivo, but so far no response.)
So, since George apparently has more pressing engagements, we've been enjoying this tranquil ambiance on our own with the guidance of our hostess, Alessandra.  Yesterday she took us to see her newly planted olive trees, which will eventually yield fruit and then, of course, oil.  But while there were no olives yet, her land is full of wild asparagus, which we all collected, and Alessandra later used to make risotto.  Dinner also included some bresaola, vitello tonnato, homemade bread, and local wine.  The best meal that we've had on our trip by far.
The walk to Alessandra's olive grove is along Il Sentiero del Viandante, a trekking path of about 45 kilometers that stretches from Abbadia Lariana to Colico.  Think of it as El Camino de Santiago in Northern Spain meets La Via dell'Amore in Cinque Terre.  In other words, part pilgrim trail and part scenic hike.  Fair warning, the hike, while beautiful, is not for the out of shape, as I quickly came to realize.  However, if you love walking amongst nature with one of the most stunning backdrops as your view, then it's very much worth the effort.
Our new friend Alessandra owns and operates Holidays in Gittana, a small nest of self-catering apartments that she has lovingly restored and redecorated.  The units still maintain much of their original construction, including wood beam ceilings and fireplaces.  We stayed in the one bedroom, one bath "Ca' Pina," which was built in the 1400s.  Yes, that's the 15th Century, my friends.  She has other units which are bigger and can accommodate up to six people.
For half the price of a hotel room in Bellagio, we are relaxing in a fully functional "home away from home" with all the comforts and conveniences.  The apartments all have kitchens and laundry facilities, and everything you'd need to be relaxed and comfortable.  If you plan to stay in the area for more than a few days, this option is particularly nice because you can really slow down and take your time to appreciate your surroundings.  You can make a simple meal for yourself if you don't feel like going out to eat twice a day (which frankly, gets old, in my opinion).
In the coming weeks/months I will have more to say about visiting Lake Como and the people we met during our stay.  And more photos.  For now, I just wanted to give you all a little peek at this stunning area of Northern Italy.  The visual impact alone is reason enough to come, and it leaves you gasping for breath.  Of course, there are many, MANY beautiful locations around Italy, but the Lake Region has a certain dream-like quality about it.  Too bad tomorrow I'll have to wake up and leave.