The degree of diversity in Italy never ceases to amaze me. The more I learn, the more I realize how little I know about this wonderland of cultural treasures. And by culture, we could talk about everything from art to language to food to architecture.
Lately I've been learning a lot more about Piedmont (Piemonte), but unfortunately only virtually and vicariously. It's one of the regions that I have yet to visit.
On the podcast today is Diana Zahuranec who is an American journalist living in Piedmont. She is the English editor, and she writes and translates for the online wine tourism magazine Wine Pass.
(Wine)-Passing through Piedmont
Appropriately, we started our conversation about the wine and cuisine of the region. Diana isn't just a wine "appreciator," like me. No, she actually has the credentials to go along with her enthusiasm. After graduating from Penn State in Anthropology and Italian, she attended the University of Gastronomic Sciences in Pollenzo for a Masters in Food Culture and Communications.
Food culture is big in this region. If you've ever heard of the Slow Food movement, then you probably know that it all started in the nearby town of Bra, less than three miles from Diana's school in Pollenzo. Now the organization has chapters all over the world, crusading against Drive-Thru Windows and Frappacinos to go.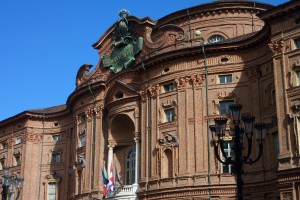 The food isn't the only reason for passing through Piedmont. The city of Torino has plenty of museums to keep the art lover satisfied. Diana mentions a museum to Italian film, and we also discussed the somewhat odd existence of the second largest collection of Egyptian artifacts in the world, behind only Cairo. History buffs might also recall that Torino was briefly the capital of Italy just after the Risorgimento. And Piedmont has always been one of Italy's top economic regions, home of such iconic brands as FIAT and Nutella (World Nutella Day is February 5th, so mark it on your calendars).
Don't forget, Torino was also the site of the 2006 Winter Olympics, so obviously winter sports are a major draw to the area. In the summer months, the ski runs make for excellent hiking, with views of the Alps from almost any vantage point.
We also discussed the dialect, Piedmontese, a little bit. I had assumed that it would be heavily French influenced due to the shared border with France, which I suppose it is. But it also contains many words of Celtic origin, and is considered more than a dialect of Italian; it's actually a separate language.
Diana Zahuranec
I'd like to give a big GRAZIE once again to Diana for being on my podcast today, and sharing her love for the cuisine, wine, and culture of Piedmont. Her stated goal is to see as much of the region as possible using public transportation (but if you have a car she'd appreciate the ride).
Besides Wine Pass, you can also find her on her personal blog, Once Upon a Time in Italy, where she writes about living in Italy, food stories, recipes, and writing. (She's got a great eye for photography, too; all the photos in the post are hers.)
She's on social media, too, so if you're passing through Piedmont, get in touch!
Click the link to check out other episodes and see my list of the best podcasts about Italy.
Podcast: Play in new window | Download (Duration: 44:21 — 40.6MB) | Embed
Subscribe: Google Podcasts | Email | RSS | More