Even if you don't have kids—or if your bambini are already grown up—I think you'll find today's discussion with Andrea Timonere from "Sex, Lies, & Nutella" extremely interesting. We sort of used child rearing as a focal point for discussing Italian society at large, and comparing those practices to their American equivalent.
First off, I admit that I sort of "borrowed" the title of today's podcast episode from Andrea's blog title because, well…it's so very appealing. And actually, it seems to fit.
How so, you ask? Let's break it down…
Sex: Well, obviously when talking about having children, you can't really skip this important first step in the process. Enough said.
Lies: This refers to the lies that soon-to-be parents tell themselves. Example: "I won't make ANY of the mistakes that MY parents made." (No, in fact you'll invent brand new ones.)
Raising Children Italian Style: This is really the center of today's discussion—and I apologize to those of you who only tuned in hoping that we'd talk about the first topic on the list. In Internet marketing jargon, this is known as "click bait." And you fell for it. For the rest of you, let's continue…
Raising Children Italian Style
Beyond Italy, maybe it's a European thing. Our discussion reminded me of a book I had started reading a couple years ago (i.e. before my daughter was born) called "Bringing Up Bebe," written by an American woman in Paris. She made several observations that only now really make sense to me.
For example, she described a restaurant scene that probably sounds familiar to many American parents. You sit down at the table, and immediately order something for the baby to eat. Then of course, she's not hungry and is only interested is seeing how far she can launch her pasta across the room. So you rush through your meal, take turns entertaining the little monster—I mean, angel—then skip coffee and dessert, and leave a way-too-generous tip to compensate for the havoc your child has wrecked upon the wait staff. Looking over your shoulder as you dash out the door, you decide that maybe it was worth it, after all, to have someone else clean up the aftermath of a typical baby dinner, for a change.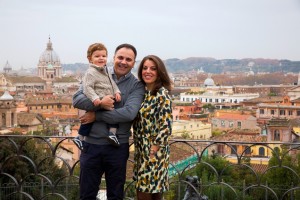 European kids don't seem to behave this way, and yet their parents don't appear to be heavy handed with the discipline—at least not in the Mediterranean countries. Rather, the accepted norms of the cultural environment are what guide the behavior for both parents and children, even if it's more or less unspoken.
We touch on this in the podcast, and Andrea is very insightful with her observations. We also venture into a discussion about the older "kids" in Italy. Yes, I'm referring to the legendary population of mammoni, who live at home well into their 30s and 40s so that they won't miss a single occasion to indulge in Mamma's trippa alla romana or to have their shirts ironed just the way they like.
Andrea Timonere
I would like to give a big "GRAZIE" once again to Andrea for taking the time out of her double duty as career woman and mamma to her two year-old, Luca. (We chatted during his nap.)
Please visit her on her hilarious, insightful blog, and "like" her Facebook Page to keep up with all her posts about life in Rome. Andrea is definitely someone who I look forward to inviting back to my podcast for another discussion in the near future. Next time we'll leave the kids at home, and so perhaps we'll discuss that "other" topic that you were hoping to hear more about. (And no, I'm not referring to Nutella…)
Her Website: Sex, Lies, & Nutella
Click the link to check out other episodes and see my list of the best podcasts about Italy.
Podcast: Play in new window | Download (Duration: 28:18 — 25.9MB) | Embed
Subscribe: Apple Podcasts | Google Podcasts | Email | RSS | More