Spring is almost here, and that means the change of seasons in Italy. No, I'm not referring to the semi-annual ritual that involves rotating your entire wardrobe. That's always an amusing discussion, but this time me and my group of fellow Italy bloggers (C.O.S.Ì) are thinking about warmer weather and Spring destinations in Italy for a quick getaway.
What are the criteria? It's not complicated: beautiful landscapes, great food, an interesting local culture, and a town that's small enough to be quaint yet big enough to offer a decent selection of activities and services. After living among the greatest sites and monuments in the world for several years, I now prefer to just find a lovely spot to relax and enjoy Italy's more subtle charms.
Let's face it, after Rome, you've really got no chance of finding a place with more impressive history, art, and intense Italian culture. But Italy is so much more than museums and ruins—and discovering a "diamond in the rough" is one my greatest satisfactions.
This is also what I suggest for people who have visited Italy once or twice, and have seen Rome, Florence, and Venice. Yes, you should definitely see those cities during your first trip to Italy. But once you've had your fill after guzzling from the firehose of Italian tourism, I would highly recommend that you see the "other" Italy—the slow pace, the local cuisine, and an environment that invites you to downshift and enjoy life's simple pleasures.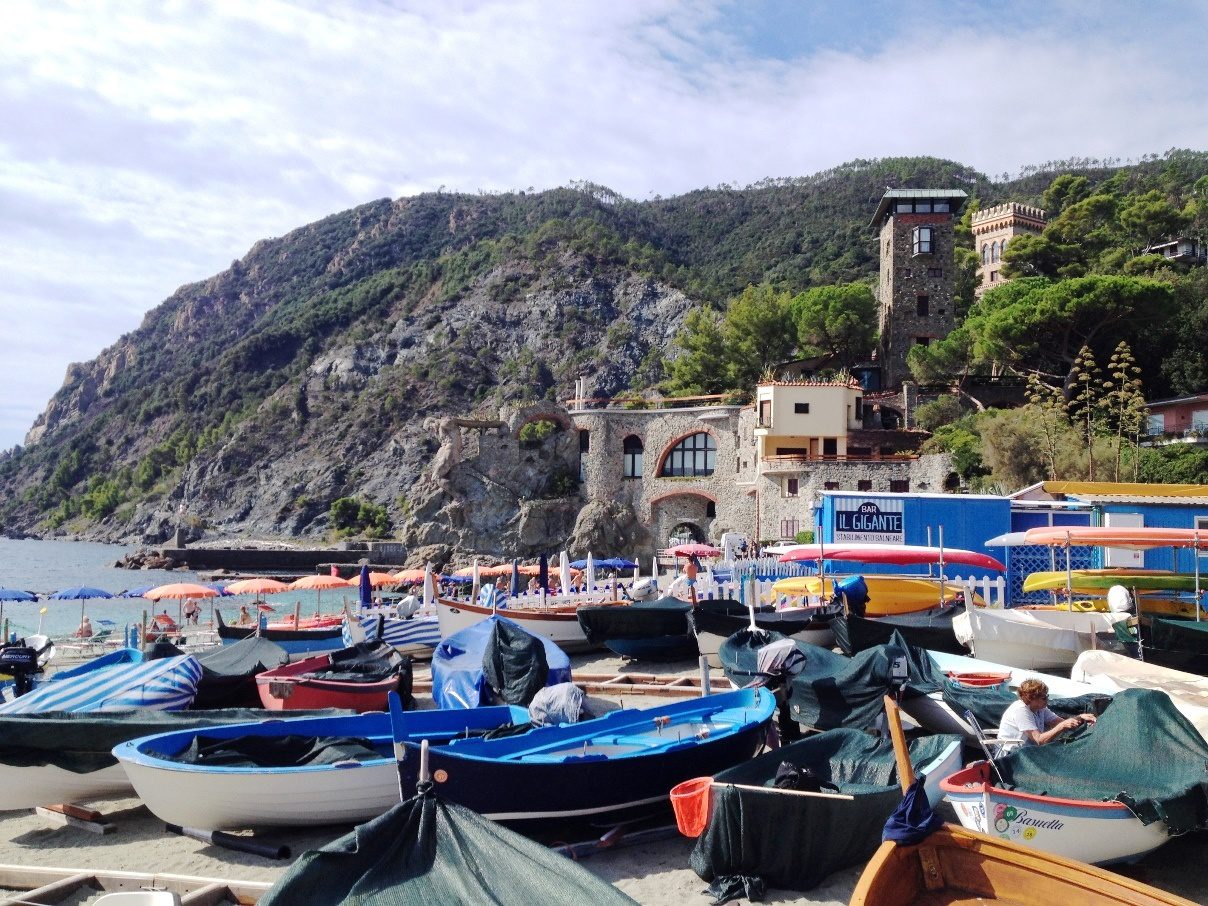 When I mention "the Ligurian Coast," you probably have a vague notion of where I'm talking about. But then if I say "Cinque Terre," you'd say, "Oh, RIGHT! I want to go there!"
The truth is, the Cinque Terre has gotten WAY more attention than it needs—or can handle. The villages, while charming to the extreme, are really small. This is both their blessing and their curse. In the last ten years or so, the high-season (now extending from March to November) packs in stadium-sized crowds into a space that was designed to accommodate about 600-700 people at the max. You can imagine the result at lunchtime in July. It's like trying to stuff an entire soccer team into a Fiat Punto with the heater blowing at full-blast.
Instead, the smart traveler is now finding adjacent towns from which base themselves, allowing them to explore those five little villages in the morning or early evening, while retreating to a more civilized environment during peak hours.
"The town that fits this bill is Levanto."
Why Levanto, exactly? Two main reasons: it is well-connected to the towns of the Cinque Terre by train, boat, and even walking paths; AND it has plenty to offer on its own, especially if you enjoy nature and being outside nell'aria aperta.
Believe it or not, Levanto happens to be one of the premier surfing destinations in Europe. The prevailing winds along with the topography of the natural bay produce respectable waves for those who want to Hang-Ten, Italian style.
Additionally, you can find windsurfing, stand-up paddleboarding, and kayaking, depending on the time of year and weather conditions. If you'd rather stay dry, there are world-class hiking trails that wind through the local terrain, which lies at the foot of the Italian Alps.
Biking, you say? Sure, in fact the "Giro d'Italia," passed through Levanto in May of 2015. Be warned, though, the roads are steep and not for amateurs. Unless, you "cheat" a bit, like I did. Yes, I peddled up the same steep slopes as those professional athletes—only I did it on an eBike provided to me by a local company, Ebikein.
Of course, you can also do plenty of nothing, if you'd prefer to rent a beach chair and umbrella while the waiter brings you a Campari and Soda to quench your thirst. Great people watching along the Italian Riviera; slow down and enjoy.
The food is memorable, too. This is pesto country, but I'm partial to the seafood, such as the wonderful fritto misto that I bought from a street vendor for just €7.00. The local wine of choice, Cinque Terre D.O.C., is a crisp white which pairs perfectly with fresh fish. Also worth a try is farinata, a flatbread made from chickpea flour and other flavored with olive oil, rosemary, and/or onion. It's mostly a street food, best eaten piping-hot and fresh out of the oven.
Then of course there are those five quaint hamlets, posing so perfectly for our photos.
Here's good tip. Do NOT hike along the lower trail, which is inundated with sweaty Germans who brazenly disregard the social benefits of underarm deodorant. Instead, opt for one of the upper trails that have the dual advantages of being much less crowded, and providing a better vantage point for panoramic photographs.
Spring Destinations in Italy
Listen, city breaks are ideal during the winter, when a cozy museum or a bustling trattoria provides shelter from the elements. But by the time Easter plans are being discussed, I'd prefer a sunny coastal retreat to thaw my bones and breathe the clean salt air.
In summary, this is a place where you go to chill out. More relaxing than chasing the famous checklists in the big tourist cities, and yes, more relaxing than the Cinque Terre themselves. In Levanto you'll find the best of Ligurian Coast without any of the hassles.
If you want to read more about my time in Levanto, click over to my recent post on the Visit Levanto site, including specific suggestions for hotels, restaurants, and activities.
Then check out what my partners in expat tomfoolery have to say about the change of seasons, Easter, and Spring destinations in Italy.