There is so much to love about living in Italy: the food, the art, the history, the weather, the scenery.
"The bureaucracy," however, is conspicuously absent from this list. As any expat can tell you, it's the one thing that can be a real buzz-kill.
The undisputed King of all bureaucratic nightmares in Italy is the Permesso di Soggiorno. Day after day I receive desperate pleas via email from folks on the verge of a psychotic episode, driven to madness by the labyrinthine quagmire of governmental inefficiency in Italy. Take solace, my friends, you are not alone.
As one reader recently commented, "The REAL problem isn't just getting it; it's understanding how to roll with the punches when you try to secure one in different areas. I've gotten one in Rome, one in Bologna, one in Padua and three in the southern regions. Let me tell you: if all my kids resembled my Permesso experiences, they'd look like they came from different continents. In some towns you go to the police station, some you go strictly thru the postal system, and sometimes a banker has the reins. It's pazzi!"
Couldn't have said it better myself…
My Guide for the Permesso di Soggiorno
Like most Italy bloggers, I've covered this topic many times before. But apparently there is still a lot of confusion as to the exact steps in the application process. So what I've done is to compile everything that I know about this elusive "trophy" into one, handy-to-use pdf. I've created an email series to go along with it that includes tips about getting around town, healthcare, language acquisition, and other helpful topics.
I submit for your reading pleasure, my definitive guide for the Permesso di Soggiorno. If you're in dire need of a Permesso, then I'm sure you'll find this a riveting yarn. If you don't need a Permesso at the moment, you can download it and save it for later. For the rest of you, it also doubles as the cure for insomnia. Go ahead, give it try—I promise it works! I even fell asleep myself a few times while writing it. Download it here:
[one_half_first]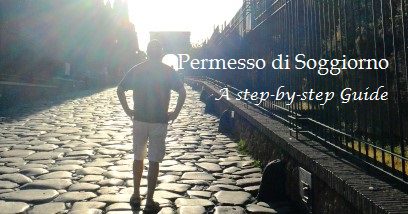 [/one_half_first][one_half_last] [thrive_optin color="blue" text="Download Now!" optin="6382″ size="big" layout="vertical"][/one_half_last]
This guide for the Permesso di Soggiorno contains step-by-step instructions for filling out the form correctly. There is also a copy of the form itself (Modulo 1)that you can download and print, as well as all the terms in translation, and some other useful resources. Then once the form is filled out, the guide explains the final steps before submitting the application package to the post office (or Questura, but post office is better, believe it or not).
The only thing I didn't explain in this guide was how to open the celebratory bottle of Prosecco when you finally get your Permesso six months later. I'll let you figure that one out for yourself.
Apartments in Rome
Two friends of mine—Steven and Linda, a married couple from the U.S.—started a company called "Cross Pollinate" back in 2000. They've done a lot of legwork in the years since, checking out unique apartments all across the city, and making them available for rent via their website. And they only work with places they feel that they can truly recommend. In other words, they've screened the places so that you don't have to.
Their site has an easy to use search engine, as well as an interactive map. You can filter your search by price, features, and travel dates, or use the map to search by geographic area.
I have more to say about apartment hunting in this post about finding accommodations in Rome.
On the Visa Question
But no, I won't stop there—I'm aiming my sites higher. And if the mountain won't come to me, then I will go to the mountain. I'm referring, of course, to the Italian Consulate. The Permesso is exquisitely confusing, like trying to solve a Rubik's Cube in the dark while wearing oven mittens. But the shifting criteria for getting your visa approved are guarded like a national secret, much the same as the recipe for Pompi's tiramisu.
The Consulate doesn't even know it yet, but I'm going to get to the bottom of this slippery issue, or get deported trying. (Actually, I feel pretty safe; I have an Italian daughter now, so that can't keep me out. I think.) As you've probably guessed, this might take a few months/years, so stayed tuned.
An Offer You Can't Refuse
I was honored a few months ago when fellow Rome blogger, John Henderson, referred to me as "The Godfather of Rome Bloggers." (At least I think he meant it as a compliment.) I don't know if that's true, but I try my hardest to abet those who'd like to attempt this crazy, ill-advised, impossible—wonderful—journey that I have completed. So what do you say, are you foolish enough to try it, too? Andiamo!
Alla prossima,
Rick