Christmas Eve dinner 2011 at my girlfriend's family's home for my first Christmas in Sicily. Her mom is a great cook and I knew that I was in for an epic feast. And as I watched the parade of food coming out of the kitchen, I was not disappointed. I couldn't believe both the quantity and the variety of seafood being served.
"Is this the Feast of the Seven Fishes?" I asked in my tentative Italian.
My future mother-in-law responded, "Who are these seven fishes that you speak of?"
She caught me off guard…did I pronounce something wrong. "No, not 'fishes,' I meant seven different 'dishes' made from seafood.  Seven—you know, it represents the seventh day when God completed His work. We celebrate the completion of The Lord's promise of the Messiah through baby Jesus."
She didn't respond immediately. I was still assuming that she couldn't understand my horrible Italian. But as it turns out, it wasn't a language issue. She glanced around the dinner table, and then counted the different seafood dishes, pointing to each one.
"Uno, due, tre, quattro, cinque, sei… ci sono sei pietanze. Scegliti la leggenda che vuoi…"  There are six different dishes…make up whatever story you like. Then she promptly turned on her heel and marched back into the kitchen.
I must say, I was a little let down. My knowledge of Italian-American culture had always implied the importance of this holiday tradition. Imagine my disillusionment when I arrived at the alleged source of this sacred rite only to find out that it is—and had always been—false.  An American invention. It's like traveling to the North Pole and discovering that Santa Claus doesn't live there after all. Alas…
Sicilia, il ritorno
A few weeks ago I wrote a whole post about that trip to Sicily in the winter of 2011-12. Indeed, Christmas in Sicily is a magical time to visit that enchanting island, when you can witness all the colorful traditions and participate in the festivities of the holiday season.
But December and January are pretty darn chilly, even as far south as Sicily. This Floridian prefers more balmy weather, when you can stroll outdoors in short sleeves during the day and enjoy a slow sunset with a long drink overlooking the Ionian Sea, contemplating the smoldering fury of Mount Etna in the distance. To me, this is Sicily; a warm, inviting, endless panorama of beauty and wonder.
I have started a small travel business, and we'll be leading private groups around the island beginning this May.  We're partnering with some professional guides, as well, who have access to a few special locations.  So in addition to your host—me with my magnetic personality and charming wit (cough, cough)—you'll also have the benefit of some knowledgeable experts who are very familiar with the fascinating history of all the sites we'll be visiting…not to mention some great places to eat!  (Yes, there will be plenty of "fishes," although not necessarily seven exactly.)  For transportation, we've also hired a donkey cart and a driver…I mean, a modern mini-van with A/C and comfy seats.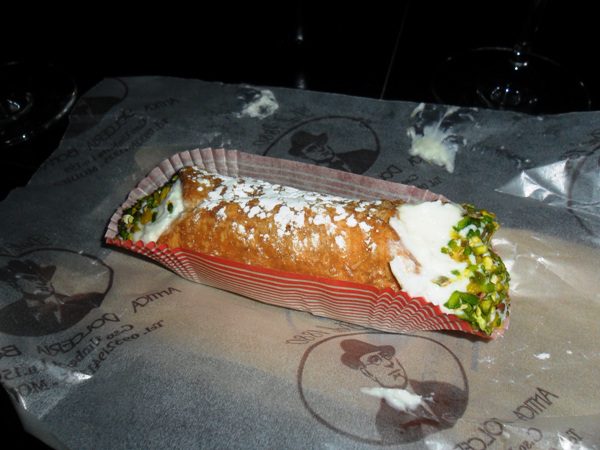 This is going to be a grand tour of Sicilia, hitting all the major towns and ancient sites.  We'll be visiting Greek ruins in Agrigento, street markets in Palermo and baroque villages in the Iblean Mountains.  We'll eat in quaint trattorias, stop at a few wineries to sip their products, and sample some of the best desserts in the world.   Sure, we'll visit a museum or two, and for the adventurous, we've planned an optional excursion to the top of Mount Etna.  But we've also scheduled for some down time to relax, wander, shop, or whatever suits your fancy.
Remember, this is going to be a small group, so once it's is full…it's full! For now, you can just send me an email ([email protected]) to express you interest.  No forms or deposit or commitment at this point…we'll handle all that starting the first week of January.
I hope to see you in Italia in 2022!  Buone feste a tutti!