I recently met a nice couple online who have a website called "Wanderlust Marriage."  (They have a great story to share, and you can read it on their About Page.)  Anyway, they asked me to contribute to a recent post on long-term rentals in Europe and I thought that some readers of my blog would benefit from this information, too.  I've expanded my original article for apartment rentals in Rome below and have placed a link to the original post at the bottom of this page.  Happy Hunting!
Renting an Apartment in Rome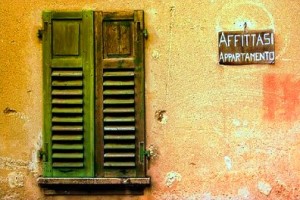 So you've arrived in Italy and now you're ready to start enjoying la dolce vita.  Great, but first you'll need to find a place to stay.  Like anywhere else in the world, there are many ways to accomplish this: newspaper ads, websites, word of mouth, or else just walking around a neighborhood and looking for the signs that say, "Affittasi."  It stands to reason that you should explore all of these resources.
If you do not feel confident tackling this process on your own, there are people who are more than willing to help you.  However, their service comes with a hefty fee.  A broker will happily do all of your legwork and find you the perfect place to live, but it will cost you an additional one month's rent.  Sometimes you can negotiate on this a bit, but still, it's a big expense and really not necessary.
Speaking of the rent, how much will it cost?  Rome is a large city, so it's going to be more expensive than a smaller town.  And like all cities, the cost of rent is relative to the size, condition, and location of the property.  If you choose to search for a studio apartment or a (very) small one-bedroom by yourself, you'll likely pay 900-1100 Euros a month, including utilities.  If you find a flatmate to share an average two-bedroom place, you'll reduce your cost to 650-750 a month.  Sharing a bedroom would be cheaper still, of course.  I should mention that these figures assume you will not be living in very middle of the historic district where prices are much higher, but still within easy reach by public transportation.
You should also know that most apartments in Italy come completely furnished, including everything that you'd need in the kitchen.  This is standard, but of course always ask to make sure.
Apartment Contracts
On the topic of legal agreements, you'll find a lot of variety.  It can be a formal written agreement which is signed by both parties and registered with the commune (county).  This so called "4+4" is the standard apartment lease.  It means that you agree to rent the apartment for four years with an option for another four.  It does not mean that you can't break the lease.  You can, but you must give at least two months formal notice and then file another legal document to inform the government that the agreement has been terminated.  The laws in Italy are heavily skewed in favor of the tenant; they are in place to ensure that a family isn't suddenly (and illegally) evicted just because the landlord decided to give the apartment to his nephew or to a higher-paying tenant.  Which is good for families wanting to stay put, but maybe not ideal for the traveler or expat whose timeframe is uncertain and desires some flexibility.
The other extreme is simply the good old handshake agreement and there are plenty of these opportunities around.  The downside here is that you really have no legal rights if the landlord decides to disregard your agreement.  However, since it is the landlord that would be in the bigger legal mess (tax evasion, among other things) if you decided to report him, it is in their interest to maintain a good relationship with you as their tenant.  In theory.
Once again, between these two extremes of transparency and obscurity lurks every hazy shade of gray.  In general, landlords—the ones that actually own the property—will be pretty straight with you, if only because it is in their interest to do so.  Still, there are dishonest people out there and you just have to trust your instincts.
How to Search for a Place
First know that unless you're working with an agent/broker, you won't likely be able to secure housing until you've actually arrived in the city where you want to live.  As a general rule, Italians do business face to face and would never consider renting to somebody that they haven't met in person.  However, if you want to start your search in advance, you might begin with an expat group in that city.  For example, here in Rome there is the group called Expats Living in Rome which often lists available apartments and rooms on their message board.  Every major Italian city has such groups, but you might not find them in the smaller towns.
Of course there are several online resources to check.  Craigslist is worth a quick look, but it hasn't fully caught on yet in Italy.  Also try, Wanted in Rome, Wanted in Milan, and Wanted in Europe, which are good resources for both apartments and jobs.  If you just want a room and NOT a full apartment, try Easy Stanza which lists all types of options in all areas.
The place that most Romans go to look for housing (if they don't have a family/friend connection) is Porta Portese.  This is a local newspaper that comes out twice a week—Tuesdays and Fridays—and can be purchased at any newsstand.  It lists hundreds of apartments for rent in Rome and it is organized by neighborhood, which makes it very easy to search.  Further, on their website you can filter your choices by price and you can also use the integrated map feature to help you find a location if you're not yet familiar with the city.  Unfortunately, the newspaper and the website are only in Italian, but once you learn a few key words, this hardly matters.
Another good website is Idealista.  It has fewer listing, but they are usually of good quality.  Again, it's only in Italian.  You can also check Solocase and Subito (Make sure that you highlight the button "in affitto," for rent, and not "in vendita," for sale.)
Benvenuti!
Italy is known for its deep history, beautiful landscapes, and incredible food.  But it's also known for its inefficient business practices and securing a place to live in no exception.  Reward comes to those who are persistent and patient.  You must follow up on leads and sometimes even chase down the people who you want to give money to for an apartment.  Once you conquer this frustrating task, however, you'll be living in one of the most culturally rich places on Earth.  It will all be worth it in the end.
You can find the original article entitled, "Renting Tips for Europe," on Alex and Bell's website, Wanderlust Marriage.